Jonathan Ford: FAW chief calls to allow fans in reduced capacity stadiums
Last updated on .From the section Welsh Premier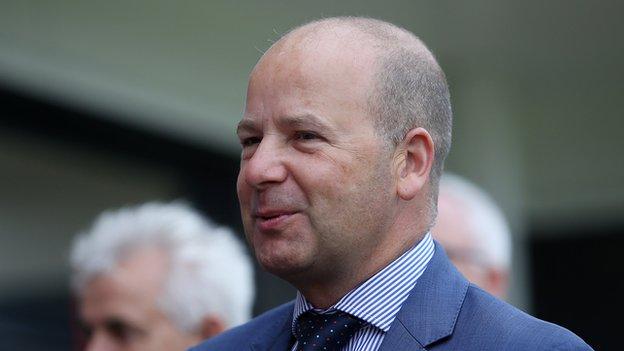 The chief executive of the Football Association of Wales has called on the Welsh Government to allow fans into stadiums at a reduced capacity.
Jonathan Ford told Senedd members it would enable clubs to earn money when they return to competitive matches.
The Cymru Premier season was curtailed because of the coronavirus pandemic with no date set for its return.
The Welsh Government said "changes will only be made when it is safe to do so."
"The coronavirus lockdown measures in Wales are in place to limit the spread of the virus and save lives. Ministers review all the restrictions in place every 21 days - and then decide what, if anything, can be changed," a statement said.
Ford said he is looking to work with the Welsh Government to ensure "we don't have a one-brush approach" to large gatherings, including Cymru Premier League games.
"If you take Barry Town as a good example. They play at Jenner Park which is a 2,500-seater stadium but they're likely to get 500 people. In fact they would probably be delighted with 500 paying punters coming through the door."
"Yes 500 people is a large gathering in a confined space but in a large space, with social distancing, it arguably could be and should be permitted," he said.
"So hopefully there are some solutions we can find together."
Barry's manager, Gavin Chesterfield, welcomed Ford's suggestion, pointing out how dependent Cymru Premier League teams are on money generated from gate receipts.
"Nobody wants to see the 'R' value [coronavirus infection rate] rise, but I certainly support Jonathan's views, providing it's safe," Chesterfield told BBC Sport Wales.
"Going off Jonathan's figures of an average crowd of around about 500 in a stadium that holds 2,500 we're only occupying around 20% of the capacity and we feel we can do that in a very safe manner."
Cymru Premier 'chronically underfunded'
Chesterfield added: "If you look at the Cymru Premier as a whole I wouldn't say it's well-funded, I think it's chronically underfunded at times so clubs are hugely reliant upon gate receipts and clubhouse revenues.
"For us, I'd estimate it would constitute around 60% of our income for the season so naturally at the moment it makes budgeting quite difficult.
"But my worry is, I suppose, Cymru Premier football does return behind closed doors and we don't necessarily see clubs see out the season.
"We're benefiting this year because we've managed to qualify for Europe and that money will safeguard our immediate future.
"We have been fortunate enough to take advantage of the government furlough scheme - things would have been a lot more difficult without that - but currently we have no bills going out, but as soon as the ball and games starts rolling we face the prospect of having bills to pay without any income so naturally that is a worrying thing for us."
Ford said Rodney Parade, the home of Newport County, could also "probably safely put a good number of people through the turnstiles there".
County, who play in the League Two of the England's football pyramid, had their season finished early after a vote by clubs.
Any decision on allowing fans back would be guided by the English Football League.