National League clubs to vote on ending season using points per game
Last updated on .From the section Conference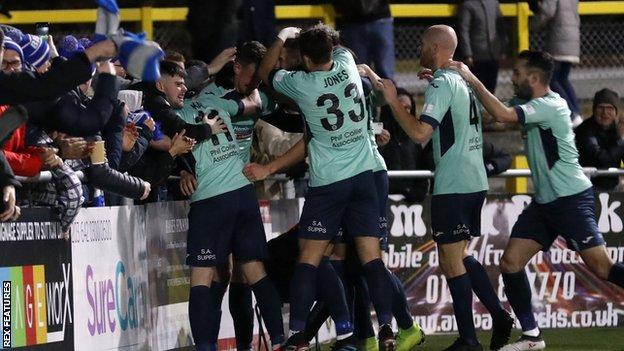 National League clubs are to vote on ending the season via points per game.
Under the plan Barrow would be promoted to League Two as champions while only bottom side Chorley would be relegated.
The proposals would allow play-offs for a second promotion place to the English Football League.
However, a plan to cancel play-offs in National League North and South has been removed from the proposals amid uncertainty over what the government classes as elite sport.
The initial proposal was that only the champions would go up because only the National League is thought to fall under the classification of elite sport.
That would mean Wealdstone winning National League South while Kings Lynn would leapfrog York City to take the North title.
However, Alan Mak, MP for Havant, whose local club Havant and Waterlooville (HWFC) were second in National League South behind Wealdstone when the game was stopped due to coronavirus, says he has spoken to Sports Minister Nigel Huddleston and been told the National League assessment is wrong.
In a letter to National League chairman Brian Barwick, Mak said that the government has "not expressed a view" about whether either league is 'elite'
He added: "Elite athlete means a person who is an individual who derives a living from competing in a sport. If HWFC and the National League agree that HWFC's players meet this definition, the government is not intending to prevent National League South play-offs from taking place or HWFC from taking part."
Meanwhile, York MPs Rachael Maskell and Julian Sturdy have written to the Department of Culture, Media and Sport in support of their promotion claims.
"They should follow the logical, sensible proposals put forward by York City to allow either play-offs, and if they cannot go ahead, to revert to promoting the top two. It's the only fair way forward," Maskell told BBC Radio York.
A number of other amendments put forward to the draft resolution from clubs were rejected when the National League board met on Friday because they were considered not to be in the best interests of the league.
The board will now issue the voting papers for their ordinary resolution on Sunday.
National League clubs voted to end their season in April after it was suspended in mid-March because of the Covid-19 pandemic.
No sides would be relegated from National Leagues North and South under the proposals, meaning Blyth Spartans, Bradford Park Avenue, Braintree and Hungerford would avoid dropping into the level's feeder leagues which were declared null and void in March.
Clubs will now have to decide whether to support the motion, with the National League indicating that if it does not go through they will next consider declaring the leagues null and void.
Only one side will be coming down from League Two after Bury's expulsion from the EFL in August so, if approved, the plans would see 24 teams in the National League and a return to 72 teams competing in the English Football League, while either National League North or South would have 23 teams next season.
All National League clubs will have a vote, with the North and South divisions having four votes each.
A majority of 51% would be required but any decision still has to be ratified by the FA Council.