Wigan Athletic: Administration is a 'major global scandal' says MP
By Simon Stone and Dan Roan
BBC Sport
Last updated on .From the section Wigan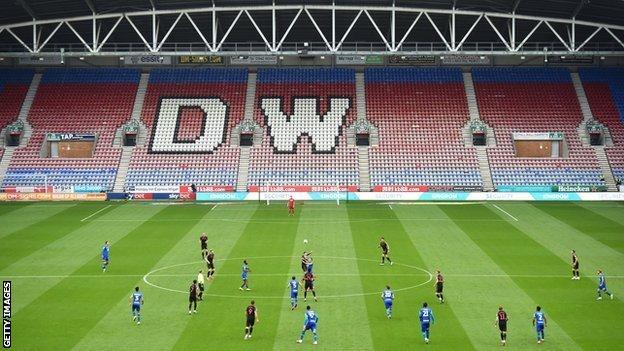 Local MP Lisa Nandy has called for a full inquiry into the circumstances surrounding Wigan being placed in administration and says the club are the victim of a "major global scandal".
Nandy made the comments in a letter to Oliver Dowden, the Secretary of State for Digital, Culture, Media and Sport.
On Wednesday Wigan entered administration just weeks after the club changed owners.
"What has been allowed to happen in recent days is disgraceful," she wrote.
"It shows the complete failure of governance safeguards to protect clubs like ours."
Nandy, the MP for Wigan and also shadow foreign secretary, added: "Wigan Athletic FC has been a well-run, much-loved club at the heart of our community for almost 90 years.
"I am at a complete loss as to how the new ownership model could have been approved by the EFL. There must be a full inquiry."
Wigan face a 12-point deduction to be applied either this season - if they finish outside the Championship relegation zone - or at the start of 2020-21.
The club's administrators intend to investigate how the club ended up in the situation barely a month after changing owners.
Wigan will fulfil their Championship game at Brentford on Saturday despite players not being paid their wages they were due on Friday.
Parry secretly filmed discussing situation
EFL chairman Rick Parry has been secretly recorded by a Wigan fan discussing rumours related to the club's administration.
In the recording, Parry discusses an alleged bet on the club's relegation from the Championship.
On Wednesday, Wigan became the first English professional club to enter administration since the coronavirus pandemic began.
The club's administration is currently being investigated.
The EFL said it was "aware" of the video, adding Parry was "unaware he was being filmed".
"It was part of a much wider and impromptu discussion he was having with a Wigan supporter he does not know but who lives in the same area," said an EFL spokesperson.
"The private conversation focused around the events of the last 24-48 hours, how the EFL can assist and what happens next. The various rumours and reports that have been circulating throughout today were also discussed.
"While the chairman was unaware he was being filmed, he was happy to engage in the debate and appreciates this is a concerning and challenging time for all those associated with the club."
Wigan fan David Curtis, who claimed to have filmed the video, told BBC Sport: "Football is nothing without fans and when the fans want questions answered they need to be answered, and I had the power to ask them.
"I hope Wigan Athletic appeal the point deduction and the EFL accept the appeal."
Background
The club wrote to fans last month to tell them International Entertainment Corporation (IEC) had handed over control to another Hong Kong-based company, Next Leader Fund, on 29 May.
That completed a deal the publicly quoted IEC first mentioned in November. At that time, it was stated IEC chairman Stanley Choi would act as "a limited partner" in NLF.
The speed from the change of ownership being executed to Wigan being put into administration has raised eyebrows.
Joint administrator Gerald Krasner, who took over as chairman of Leeds United in 2004 in the middle of the Yorkshire club's dire financial situation, said the matter would be investigated.
"Every administration I have been involved in had its peculiarities," he said. "But this is a first. Four weeks is a record that will stand for some time.
"We are aware of concerns that have been raised. The investigation won't go away. It will be done. Once I know we have saved the club and got non-disclosure letters out [to prospective buyers] - we're talking about two weeks - we will sit down with our lawyers to see if there is any litigation there that will be for the benefit of the creditors."
There is also uncertainty over the status of a £28.77m loan given to Wigan by IEC that attracted 8% interest. This loan now appears to have been repaid by a third party but it is not known what the Latics' liability for it is.
"There will be a lot of incredible things that come out when we get into the paperwork," said Krasner.
"On the loans, nothing appears to be registered at Companies House to say they are secured against anything. What we don't know is whether the new owner has repaid that loan by putting his own money in, which would swap the loan over."
Krasner said there are "no guarantees" Wigan's players will receive their wages, which are due on Friday, although he hoped to pay at least some of them.
He revealed the approach to the administrators was initially made on 24 June but it was decided not to do anything until after Wigan's 3-0 win over Stoke at the DW Stadium on Tuesday as it couldn't be assumed the players were insured and the administrators wanted to avoid being liable for any injuries.
It was subsequently established the insurance was in place.
Krasner has extensive experience in football, having also been involved in administrations at Bournemouth and Port Vale.
He shares the view of many within the game that Wigan will not be the last club to be brought to its knees by the financial impact of Covid-19.
"The world has changed," he said. "Everything we thought about football has gone out of the window.
"It's my personal view that there are a number of clubs in Leagues One and Two that may not survive by coming back.
"There's possibly at least one Championship club that may seriously be thinking about doing the same."
Representatives of IEC have been contacted about this story.
Analysis
Simon Stone
Wigan Athletic executives spent last week dealing with contracts and turning down offers for some of their players, oblivious the club was about to be put into administration.
It has emerged that Wigan's staff were kept completely in the dark about the plan, even though administrators were first contacted last week by representatives of the club's Hong Kong-based owners.
On 25 June the club announced they had given striker Joe Garner a new one-year contract and had signed defender Leon Balogun from Brighton on a permanent deal until the end of the season.
It was not until Tuesday that details began to emerge, although officials were keen to shield manager Paul Cook and his players from the issue given the importance of their Championship game against Stoke the same evening.
Club staff are now working with the administrators, attempting to find a way out of the situation, with many unsure about the precise reasons for the club being put into administration.