Non-league clubs at step three and below can admit fans to grounds
Last updated on .From the section Conference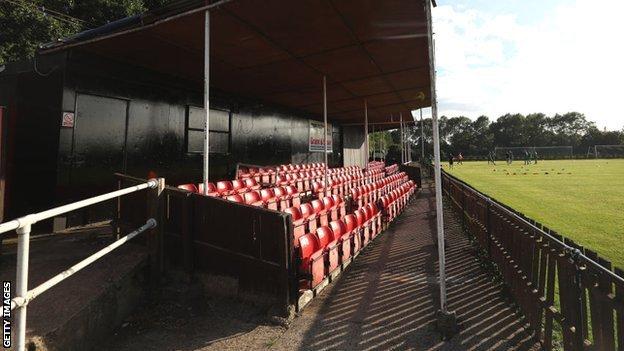 Fans will be allowed to attend football in the seventh tier and below, after the government updated its guidance on recreational team sport events.
Clubs in the leagues below National League North and South will be able to open their gates to spectators for the first time since the coronavirus pandemic began.
The decision means a distinction has been drawn between the return of fans to recreational sport and elite sport, where pilots are required before an intended expansion from 1 October.
It comes after more than 30 MPs wrote to sports minister Nigel Huddleston calling for the "urgent return of fans to non-league clubs".
The letter, which was coordinated by former sports minister Tracey Crouch and Dame Cheryl Gillan, warned that clubs "at the heart of our constituencies" could be "lost forever" if an exemption is not granted.
BBC Sport can reveal that the government's return to recreational team sport framework was updated on Tuesday afternoon to draw up protocols for allowing spectators in.
Fans will need to abide by social distancing rules, and spectator groups must be restricted to "discrete six-person gathering limits".
Meanwhile, organisers of events that are likely to attract a crowd will need to put forward a "named person or persons with responsibility for ensuring adherence with these guidelines and ensuring the facility is Covid-19 secure".
They would also need to publish a risk assessment limiting the number of spectators, and assist with the NHS Test and Trace scheme by collecting information from spectators.
The MPs who signed the letter had said that non-league clubs "tend to be supported by those within the town itself" and that average crowds are "in the hundreds".
BBC Sport understands that the Football Association defines elite football as being everything from the Premier League down to National League North and South, which explains why the new rules apply to step three and below.
A campaign using the slogan "#LetFansIn" has gained significant traction among non-league clubs in recent days, while two petitions supporting the cause have received more than 6,000 signatures.
Crouch posted on Twitter: "Football has many wonderful layers but non-league is often at its heart and soul. With fewer fans it's easier to make clubs Covid secure but without them coming back soon their future is shaky so we've written to Sports Minister calling for non-league clubs to #LetFansIn."
She later told the BBC that not allowing fans to attend non-league football "makes no sense".
An FA spokesperson said: "We continue to follow government advice with regards to the return of spectators and are working continuously with the Sports Ground Safety Authority, DCMS and Leagues to seek approval for a safe return as soon as feasibly possible."