Premier League rights: China deal terminated with immediate effect
Last updated on .From the section Premier League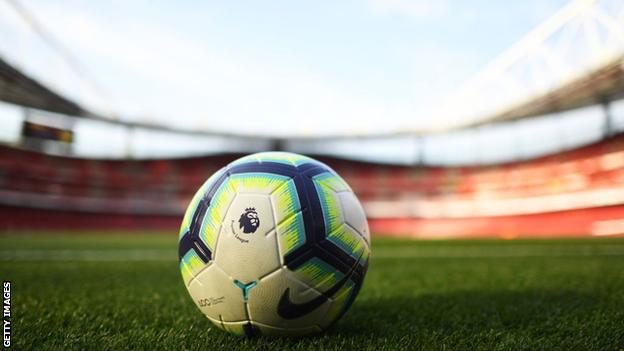 The Premier League has terminated its £564m contract with its Chinese licensee with immediate effect.
China was the English top flight's most lucrative overseas television rights territory, with a three-season deal agreed in 2019.
It is understood the reasons for the termination are financial rather than political.
BBC Sport has been told streaming service PPTV withheld its latest payment of £160m, due in March.
In a statement on Thursday, the Premier League said: "The Premier League confirms that it has today terminated its agreements for Premier League coverage in China with its licensee in that territory.
"The Premier League will not be commenting further on the matter at this stage."
PPTV is owned by Suning Holdings, the Chinese group which also has a controlling stake in Serie A side Inter Milan.
Analysis
BBC sports editor Dan Roan
At a time when the value of domestic TV rights for the Premier League has fallen, China has become a hugely important growth market for the top 20 English clubs.
The bumper PPTV deal represents a significant proportion of the £4bn due to be made between 2019 and 2022 from overseas TV rights, with several English clubs now also backed by Chinese investors and sponsors.
This contract termination seems something of a shock then, and, with the coronavirus pandemic already depriving clubs of hundreds of millions of pounds through lost ticket sales and commercial revenue, the collapse of this agreement is another major financial blow.
Sources insist this all stems from the Chinese broadcaster's failure to make a £160m payment in March - leading to a legal dispute with the Premier League. Despite offering to extend the deal under new terms, PPTV feels the product is no longer worth what they initially agreed to pay, amid the disruption of schedules and the prospect of half-empty grounds.
But could there also be political as well as financial reasons for the decision?
After all the news comes with relations between China and the UK strained over the government's decision to block telecoms giant Huawei from Britain's 5G network amid security concerns. Tensions intensified after the government offered residency to three million people from Hong Kong after China threatened a new security law.