Ryan Reynolds: Hollywood star in Wrexham takeover bid
Last updated on .From the section Wrexham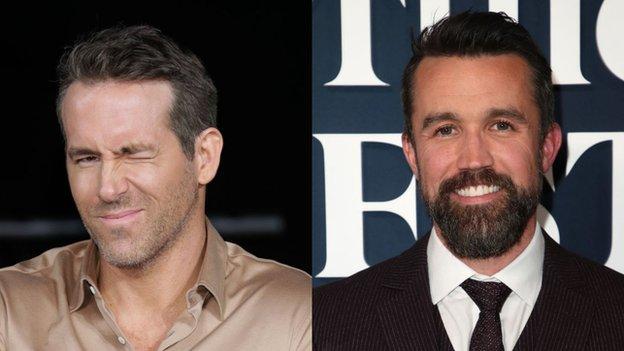 Hollywood stars Ryan Reynolds and Rob McElhenney are interested in investing in Wrexham, the club have announced.
Deadpool and Detective Pikachu star Reynolds and It's Always Sunny in Philadelphia's McElhenney will share their vision for the club with members at a special general meeting (SGM).
The fan-owned club's members have voted overwhelmingly for talks to proceed.
Any potential takeover could lead to £2m being invested in the club, which has been in fan ownership since 2011.
A total of 1,223 Wrexham Supporters Trust members - over 95% of those asked - voted for the move and 31 against at a special general meeting on Tuesday.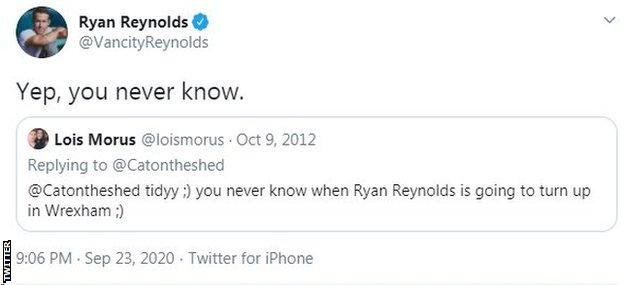 Trust director Spencer Harris, who expects a further vote from fans on the outline of the deal "in weeks rather than months", told BBC Radio Wales Breakfast the deal is in its early stages, but he has known the identity of the would-be backers for some time.
"We've known for a little while, but we wanted to come as early as we could in the process to involve supporters," Harris told the programme.
"As everybody knows we are community owned and therefore this has become public knowledge a little bit earlier than it would in any other normal circumstance, but yeah it's out there now so people know all about it.
"We started talking through representatives of theirs, talking about the club, and we're now in a position where we are able, following the SGM on Tuesday night, to get into detailed discussions about what a takeover deal could look like.
"There is some way to go and at the end of the day it will be the supporters who decide what the future direction of the club will be."
Mr Reynolds, who was among the world's highest paid actors this year after appearing in the Netflix films 6 Underground and Red Notice, has been a shareholder in Aviation American Gin since 2018.
In August 2020 drinks giant Diageo bought Aviation American, along with three other spirits, as part of a $610m (£460m) deal.
Harris has been impressed by their enthusiasm and approach to a possible takeover of the National League club.
"I've spoken to both of them several times," Harris explained.
"They are very serious, professional and successful people, not just as actors but in the business world as well and this is a very serious endeavour for them and they'll set out their vision in due course, but I know they are very passionate about this and have gone into a lot of depth to understand about the football club."
So far it is unclear why the Hollywood 'A-listers' are interested in a fifth-tier UK football club in north Wales.
"I think that's a question for them in good time," said Harris.
"I would answer 'why not?', because for us as Wrexham fans we are the third oldest professional team in the world, the oldest in Wales and play at the oldest international stadium anywhere in the world.
"We are a team with a proud history that's beaten Porto in the European Cup Winners Cup and there's lot's of potential at the club, so why not?"
"But... I don't want to get in front of them setting out their vision for the club which they will do in due course."
Approval from members for a deal would see the Trust relinquish control of running the club.
"It's very exciting news for a lot of people, but supporters will make a decision on whether this goes forward or not," explained Harris.
"Of course I would imagine we would see them at the Racecourse and we may have done already had it not been for Covid-19.
"It's a difficult time for all of football, not just at our level, even clubs at Premier League level are taking significant loans from government.
"We are in a relatively decent position versus many so there's no particular burning platform at the football club as we speak right now, however investment into any football club, especially at this level, does make quite some difference and obviously these are very serious professionals, successful people who I'm sure would have a lot to bring to any business."
It would not be the first time Hollywood stars have become involved with a Welsh club, with US star of The Office Mindy Kaling revealed as being among the stakeholders in an American consortium that purchased a controlling stake in Swansea City in 2016.