National League in talks with government over 'critical funding package'
Last updated on .From the section National League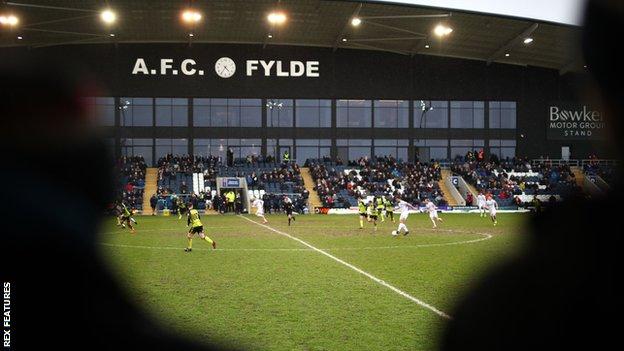 The National League say they are in talks with the government and Football Association over a "critical financial support package".
After a board meeting on Thursday, the league did not confirm the season will start on 3 October as planned.
Fans may not to be able to watch live sporting events in England until March due to new coronavirus restrictions.
And earlier on Thursday, National League North clubs said they did not want to begin playing without crowds.
A statement by the National League board said: "In recognition of the financial uncertainty facing its member clubs, The National League is actively engaged with government, with the assistance of the Football Association, to secure a critical financial support package, and it is hoped this can be announced very soon.
"It is imperative the revenue shortfall caused by the pause to the safe return of spectators is responsibly addressed so each club can operate sustainably over the course of the forthcoming season."
The 2020-21 non-league campaign was pushed back to a later start after Prime Minister Boris Johnson said in July that spectators could be able to return to stadiums from October.
Despite several pilot events for spectators at sporting events, the latest rise in coronavirus cases has prompted the government to postpone the return of crowds to elite sport, which includes the three divisions of the National League.
However, Sports Minister Nigel Huddleston has said the government will work to understand the issues faced by sports organisations "facing the most challenging circumstances and assess what further support may be required."
Stockport County chief executive Jonathan Vaughan told BBC Sport: "It's a hugely positive step in the right direction. What's crucial is that the government seem to recognise the need for financial support at this level.
"There are a number of clubs throughout the league that are generally at the edge of facing financial ruin.
"There's a lot of other revenue options and potential we can bring as well, so a lot of clubs will be able to replace some of that matchday revenue from other means, in line with the actual funding package and I don't think they'd be too far off where they were recently."
The statement on behalf of National League North clubs earlier on Thursday said 81% of them would be opposed to beginning the campaign unless there was a financial support package in place.
York City are among the minority of clubs in the 22-strong regional division - the sixth tier of English football - who back their season starting as planned, on 5 October.
"We realise that this does not align with the stance of all clubs in the league, however every club's situation is unique and individual decisions must be taken in these extreme circumstances," the Minstermen said in a statement.
"For York City, it is in our best interests to start the season as scheduled behind closed doors as outlined by the government, put out our newly formed squad who are under contract and have undertaken pre-season training, engage with our fans and try to create some much needed income for the club."
Clubs below National League level are allowed to have spectators at their matches as they are deemed non-elite.