Scottish League 1 & 2 clubs vote for 22-game season with split after 18 matches
Last updated on .From the section Scottish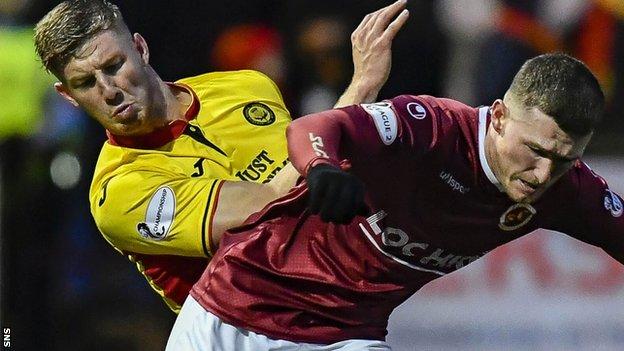 Scottish clubs in Leagues 1 and 2 have voted in favour of a reduced 22-match season, with a split after 18 games.
Fixtures had been released for a 20 March resumption after both divisions were suspended in January because of the rising prevalence of coronavirus.
Both campaigns had originally been scheduled for 27 games.
The SPFL say clubs "have until 23 April to complete 18 league fixtures" before each division splits in two for a further four rounds of matches.
"If any clubs are unable to complete their 18 fixtures by 23 April, then the post-split fixture dates for that division will be used to ensure that every club has completed 18 matches by 6 May, in time for participation in the promotion and relegation playoffs," the league body explained.
If matches after the split cannot be fulfilled, league positions will be decided on a points-per-game basis.
A statement on behalf of Leagues 1 & 2 read: "Both leagues are proud to have reached this point unified and determined to face what lies ahead together.
"In an ongoing spirit of co-operation, there is already planning under way for clubs to allow their facilities to be used in the event a fellow club's own ground isn't available or to shift a fixture to a neutral venue to minimise travel for both teams, subject to SPFL approval.
"Likewise, clubs are working to give safe access to testing facilities to players who may live locally but play for another club elsewhere in the country to minimise travel."
With some teams having played as few as eight matches, the SPFL board had suggested a revised 18-game structure. However, a steering group made up of representatives from both divisions pushed for a 22-game alternative.
No team will be asked to play more than four matches in any eight consecutive days and fixtures up to the 18th round of games have been published.
The inter-divisional play-offs between the Championship, League 1 and League 2 will start on 8 May, three days later than first planned.
The Championship and Leagues 1 and 2 normally play a 36-game campaign but all three divisions started later than usual this season because of the Covid-19 pandemic.
League One Partick Thistle thanked fellow clubs for their "bravery in holding out for the right solution, not the easy one".
The Thistle statement added: "We are proud to be part of this unified group that, through its own efforts, has allowed football in our leagues to restart. It won't be easy, it may still end up as an 18 game season - but at least our fate lies in our hands."