Irish Cup: 'A shocking state of affairs' - Dundela latest team to pull out of competition

Last updated on .From the section Irish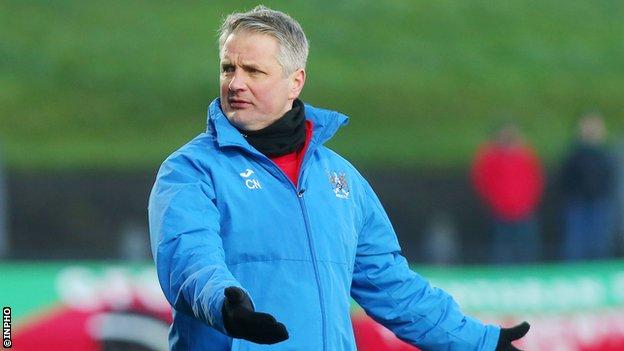 Colin Nixon has said clubs pulling out of the Irish Cup "is a shocking state of affairs" but it was the right decision for Dundela to withdraw.
Dundela are the sixth Championship side to pull out of the competition.
The withdrawals come after the second tier was not granted elite status and the season was cancelled.
"The Irish FA grants you elite status for a month and then you are straight back to being non-elite - it would be a kick in the teeth," said Nixon.
Dundela, who were drawn to face holders and east Belfast rivals Glentoran in the first round, joined fellow Championship clubs Queen's University, Newry City, Institute, H&W Welders and Ards in pulling out of the tournament.
Several reasons have been given for the withdrawals, including the dispute over the non-elite status of the senior Championship clubs, player welfare and the financial viability of returning to action for a month.
Last week it was announced that clubs from outside the Irish Premiership who are taking part in the Irish Cup will be able to recommence full training from 31 March.
Championship and Premier Intermediate clubs, who have not trained since December, will be given elite status while they are in the competition despite not being allowed to play league games.
Where do we go from here?
Dundela boss Nixon had been against the 32-team Irish Cup from when it was announced by the IFA and believes "bridge-building" will need to be done between the association and the Championship clubs.
"All I've heard that it is a blue ribband event but if you take a step back and you are asking 15 clubs, who haven't trained all year, to play against Premiership clubs with three weeks of preparation - you have to ask where is the fairness in that?," Nixon told BBC Sport NI.
"I can't think of any competition in the whole world where that would be the case. It's ridiculous.
"I love the Irish Cup, I've had a great affiliation with it and I've been lucky enough to win it on numerous occasions, but I'm not disrespecting the cup and neither are Dundela by pulling out."
Nixon feels the short return to action isn't financially viable for clubs.
"The format doesn't make any financial sense, I can't think how any team are considering playing in it bar if their players are keen to get back and get a month of football and I respect that," added Nixon, who won the Irish Cup six times with Glentoran .
"There would be a financial loss that would come with training, playing friendlies and paying for referees. These are clubs who haven't had any revenue coming through the gates for a full year. So to throw a month of football at them after treating them so poorly, I cannot understand it.
"Unless the Championship is given elite status, do we go through all this again next year? I honestly don't know where we go. Fair play to anyone who wants to play, fair play to anyone who doesn't, but there is a lot of bridge building to be done."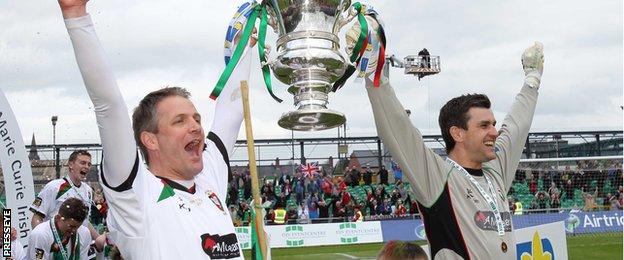 The 42-year-old added that Dundela's experience in the County Antrim Shield, where the east Belfast side lost 7-2 to Irish Premiership outfit Cliftonville in October, "weighed heavily" on his mind.
"We hadn't trained for a month. We were shut down for two weeks by the government then we had a positive Covid test. We came out of quarantine on the Friday, the boys performed remarkably well and we beat Queen's on the Saturday.
"We then played Cliftonville on the Saturday and got walloped. After 10 minutes the boys were dead on their feet.
"Looking back, with that thought process in mind, I can't understand how this craziness was ever mooted. As a manager of a football club who has been in this situation I wouldn't put my players through that again, they don't deserve it.
"We're still in the middle of a pandemic and that is the most important thing, but going forward we would need to be better prepared and equipped than the farce of this season."