Dean Shiels: Dungannon boss irked by captain Wilson's proposed Ballymena switch
Last updated on .From the section Irish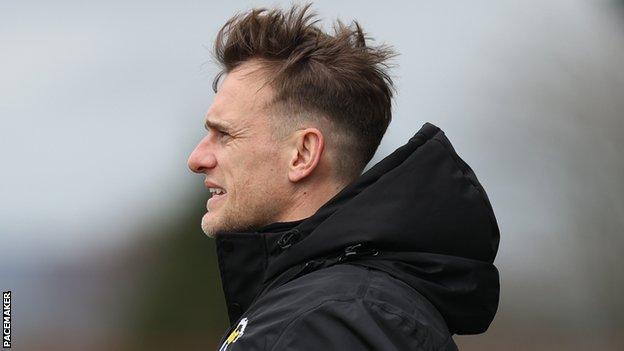 Dungannon Swifts manager Dean Shiels has revealed his captain Douglas Wilson informed him of his decision to join Ballymena United the night before they played the Sky Blues.
Wilson started as Swifts captain on Saturday as Ballymena won 5-1.
However, he was subbed after 40 minutes with Dungannon 2-0 down.
"I've got my captain ringing me the night before the game, telling me he's signing for the opposition," said Shiels.
"So, how do you deal with that? I get a phone call on Friday night by Dougie Wilson to say that he's signing for Ballymena the night before we play Ballymena.
"So you tell me, has he let me down, has he let his teammates down? I don't know."
Shiels was appointed Swifts boss at the start of March with the former Northern Ireland international continuing his role as coach of the NI women's team, who are managed by his father Kenny Shiels.
Kenny Shiels also served as Ballymena United boss between 2001 and 2005.
In an interview posted on the club's YouTube channel, Swifts manager Shiels said he does not know if Wilson will play for the Stangmore Park outfit again.
He also said he hooked Wilson before half-time because "his performance wasn't good enough".
Swifts chairman Boyd thanks Wilson for 'fantastic memories'
Dungannon Swifts chairman Keith Boyd on Sunday confirmed that Wilson is set to depart the club and thanked the player for his services over the last seven years, which included a key role in the 2018 League Cup success.
"We have had some fantastic memories both on and off the pitch and we've seen him score some terrific and important goals," said Boyd.
"I'm thankful that we as a football club were able to be there for Dougie every step of the way, in what has been an unfortunately difficult year for him off the pitch.
"We did try hard to keep hold of Dougie at Stangmore Park, but in football things don't always work out the way we would like."