Premier League: Clubs hopeful players will be cleared to play this weekend
Last updated on .From the section Premier League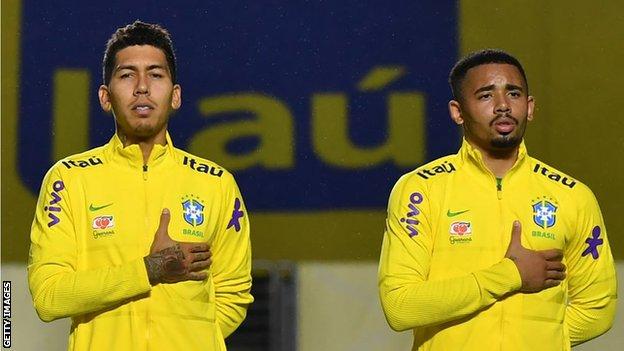 Premier League clubs are hopeful their players will be available this weekend despite four nations triggering a rule to prevent them from playing.
Players who did not travel after being called up by Brazil, Mexico, Paraguay and Chile have been banned for five days under Fifa regulations.
Officials are in talks with Fifa to try and find a way round the issue.
Manchester City, Manchester United, Liverpool, Leeds, Chelsea, Wolves, Newcastle and Watford are affected.
Eight players from five clubs have been affected by Brazil's decision alone, which follows a similar move by Mexico, Paraguay and Chile last week.
Brazil invoked the bans after the Premier League stopped players from appearing for their country if it meant travel to red list countries.
Players travelling to red list countries would have had to miss several games on their return because of the 10-day isolation period required under UK rules.
In addition to missing their sides' weekend games, Chelsea defender Thiago Silva and Manchester United midfielder Fred will also not be allowed to play in their teams' opening Champions League games against Zenit St Petersburg and Young Boys on Tuesday.
However, it is understood Brazil have not asked for Everton forward Richarlison to be prevented from featuring against Burnley on Monday. It is felt Brazil showed leniency in that specific case as Everton allowed Richarlison to play at the Olympic Games when the regulations did not force them to.
The move also affects three Liverpool players, Roberto Firmino, Fabinho and Alisson; Manchester City pair Ederson and Gabriel Jesus; and Leeds forward Raphinha, who had been called into the Brazil squad for the first time.
Wolves and Mexico forward Raul Jimenez; Newcastle's Paraguay midfielder Miguel Almiron and Watford's Chile defender Francisco Sierralta are also affected.
So far, none of the clubs affected have made any public statement on the matter.
However, it is known that they feel the situation takes no account of the unusual circumstances they have found themselves in and feel the players should be allowed to play for their clubs this weekend.
The Premier League, FA, Government and Fifa are all thought to be involved in discussions. Premier League chief executive Richard Masters has also written to clubs to say he is trying to find a solution.
It is felt any change in the situation would require some kind of assurance that players will be granted coronavirus travel exemptions so they can fulfil their international obligations in October and November, which Fifa president Gianni Infantino has been pushing for.


Our coverage of your Premier League club is bigger and better than ever before - here's

everything you need to know

to make sure you never miss a moment