Premier League and EFL clubs to fulfil fixture list amid record positive Covid-19 results
Last updated on .From the section Premier League2624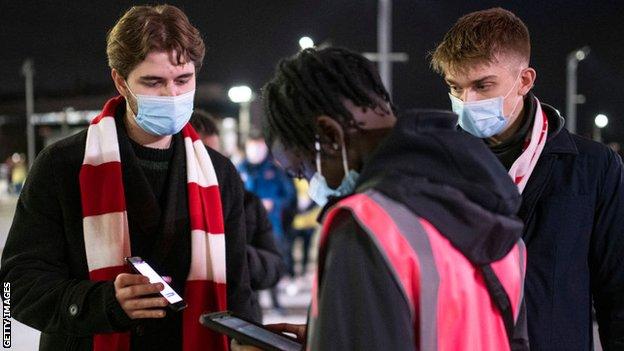 Premier League and EFL clubs have chosen to fulfil festive fixtures despite ongoing Covid-19 disruption.
The decision comes despite Premier League players and club staff returning a record 90 positive tests last week.
The Premier League's 20 clubs met on Monday to discuss the fixture list after six weekend games were postponed.
No vote took place and so two rounds of fixtures are in place across five days from 26 December, while the EFL will play games "where it is safe to do so".
It had been expected that the Premier League's gameweek 20, starting on 28 December, would be postponed in order to ease the pressure on Premier League squads.
BBC Sport understands one discussion point at the meeting was for each club to play two fixtures over the festive period across three gameweeks, meaning no individual gameweek would have been fully postponed.
Instead, clubs have been advised if they have 13 fit players, plus a goalkeeper, they should fulfil their games.
FA Cup replays in rounds three and four have however been scrapped and talks are ongoing on whether to reduce EFL Cup semi-final ties to one-leg matches.
Shortly after the meeting, the Premier League confirmed there had been 90 new positive cases from 12,345 tests on players and staff between 13 and 19 December. The figure was more than double last week's 42 cases, which was a record since the pandemic began.
On Monday, Premier League figures showed 77% of players have had two vaccination jabs, a rise from 68% in October.
In all, 84% of players have had at least one vaccination. If staff are included in the analysis the figure rises to 92%.
There were 44 positive tests in the Women's Super League and Championship last week - the highest figure since the leagues began releasing test data.
The Premier League said Monday's meeting saw "a range of issues discussed" including adapting the Covid-19 postponement process. Saturday's fixture between Aston Villa and Burnley was called off at two hours' notice.
In Sunday's Premier League fixtures, Chelsea named just six substitutes for their draw at Wolves and Liverpool drew at Tottenham without a number of first-team names.
Five of Saturday's six fixtures were called off. Chelsea tried to get Sunday's fixture at Wolves postponed and boss Thomas Tuchel said his players were put at "huge risk... not just because of Covid but also physically".
It is understood Liverpool were among a group of clubs who pushed for the postponement of gameweek 20.
After Sunday's draw at Spurs, Liverpool manager Jurgen Klopp said playing on 26 and 28 December was not feasible.
"It's impossible, we don't have the players," Klopp said. "We have to think we will get an extra case or two. We cannot just push it all through. The 26th and 28th, that's not possible. We would prefer to play but we need help with the fixtures."
The seven Premier League teams still in the Carabao Cup face ties on 21 and 22 December and will play three Premier League fixtures between then and 2 January.
Wolves club tweeted a photo of captain Conor Coady and head coach Bruno Lage having their booster jabs.
Lage added on Monday: "Everyone in our building is fully vaccinated, which is the right thing to do, especially with the increase in positive cases in the Premier League and wider society."
EFL points to optimism
Two Championship matches and five League Two games on 26 December have already been called off because of positive Covid-19 cases.
The EFL said it anticipates further postponements but sees "optimism that disruption can be minimised".
EFL chief executive Trevor Birch said: "We will continue to work with clubs, authorities and other agencies to monitor the Covid-19 case rate and be prepared to respond accordingly, yet for now the view remains that we can continue to deliver games safely where clubs have sufficient healthy personnel in place, on and off the pitch.
"With club mitigation measures, the mass adoption of booster jabs and Covid certification now required for larger crowds, we are sure many fans will continue to feel confident in attending matches over the Christmas period and we look forward to welcoming them."
Uncertainty, reluctance and congestion - Analysis
BBC Sport football reporter Simon Stone:
There was discussion about a two-week circuit break at Monday's Premier League shareholders' meeting but there was not enough support for it to come close to being implemented.
In the end, uncertainty over what lies ahead won the day - and some realities were reinforced.
Chelsea boss Thomas Tuchel wanted Sunday's game at Wolves to be called off. The request was turned down. It was noted his squad contained two outfield substitutes who cost £55m - and in Saul Niguez's case an option to buy for £30m. They also have, by any criteria, one of the best academies in world football.
The feeling within the game is that Tuchel - and managerial colleagues in the same situation - should get on with it and use the talent at their disposal and that having the "best" squad is different to having "a" squad.
Clubs do not know what the future holds. Rumours abound about lockdown restrictions returning, which would slash attendances and income from the turnstiles. Knowing that is a possibility, the clubs are reluctant to agree to a pause that they might not need.
Ten Premier League games already need to be rescheduled in a calendar that had no room for them until the FA removed the week allocated for third round replays in January.
There has been discussion about whether the EFL Cup semi-finals next month should revert to one game rather than the usual two. Any decision around that will be impacted by whether this week's quarter-finals go ahead - and what the overall situation in the country is like.
As always debate around the players is intense. Urged to return to the field during the first stages of the pandemic, now conversation is about whether they should stop.
The Professional Footballers' Association, like the clubs, continues to urge members to get vaccinated while trying to ensure players are not used as pawns in a wider PR game.