Canada women's team to go on strike over funding cuts, says captain Christine Sinclair
Last updated on .From the section Women's Football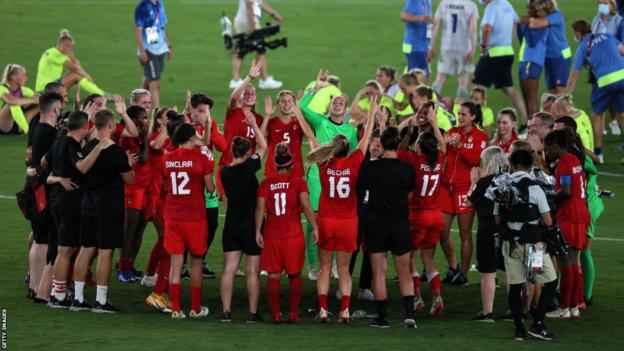 Canada captain Christine Sinclair says the national women's team will go on strike over pay equity concerns and a lack of funding that they believe will compromise their performances.
They are set to face the United States in the SheBelieves Cup on 17 February.
"As a team we have decided to take job action," Sinclair told broadcaster TSN.
"From this moment on we will not be participating in any [Canada Soccer] activities until this is resolved - whether that's training, whether that's games.
"That's very hard to say as an athlete who wants to compete and represent Canada, but enough is enough."
The next Women's World Cup takes place from 20 July to 20 August in Australia and New Zealand.
Canada are sixth in the world rankings and won Olympic gold in 2021.
In a statement released by the Canadian Soccer Players' Association (CSPA), players said they are "outraged and deeply concerned" by reporting funding cuts at the national body.
"We are demanding immediate change," the statement read.
"We expect and deserve nothing less than to be treated equally and fairly and to have our program - and our World Cup preparations - funded appropriately.
"We are left feeling frustrated and, once again, deeply disrespected by Canada Soccer."
The statement has been supported by the men's team, who went on strike last year in a dispute over World Cup prize money.
Forward Janine Beckie, speaking alongside Sinclair after the statement's release, said the team would not play the SheBelieves match if the issues were not resolved.
"This is the men and women's team together taking action against a federation which has mistreated us for far too long, and we have been far too nice for far too long," she said.
"At this point we will not be training, we will not be attending meetings. Any scheduled activity with the national team in the near future, we will not take part in."
Canada Soccer said it would meet the women's team players on Saturday for further talks, insisting it has a "proven track record" of supporting the women's game.
'We are tired of constantly fighting for fair treatment'
The joint-player statement said Canada Soccer had cut training camp days and full camp windows, which would impact the team's World Cup preparations.
The team said they had been "patiently negotiating" with Canada Soccer for more than a year but were being told to "make do with less".
They added they felt "frustrated and deeply disrespected" by the "unacceptable burden" placed on their shoulders.
"We are tired of constantly having to fight for fair and equal treatment, and for a program that will give us a chance to achieve what we know this team is capable of achieving for Canada," the statement continued.
"This lack of support threatens to reverse the progress we've made as a soccer nation and to send us back to obscurity.
"The national teams cannot afford to be the only ones fighting for our success any longer. Enough was enough a long time ago."
Canada Soccer said it had issued a "mutually agreed retroactive payment" after "months of negotiations" with the team.
"We presented an equity-based proposal to our national teams and their counsel several months ago and we are still waiting for a definitive response to the terms of that proposal," the governing body added.
Canada men 'wholeheartedly support' women's team
The women's team's statement comes eight months after Canada's men's national team went on strike amid its own dispute with Canada Soccer.
In June 2022, men's players released a letter accusing the organisation of "disrespecting" the team in relation to negotiations around prize money for the 2022 World Cup in Qatar.
On Friday, the men's team said they were "deeply disappointed" in Canada Soccer and "wholeheartedly support" the women's team's statement.
They added it was "outrageous" their counterparts were not being adequately supported in the lead up to the Women's World Cup.
"We are at a pivotal moment in time for soccer in Canada," the men's team said.
"This is a once-in-a-generation, perhaps once-in-a-lifetime opportunity to grow the sport in Canada, and the current leadership of Canada Soccer is putting that opportunity at risk."
Canada, along with the United States and Mexico, will host the next men's World Cup in 2026.