Atletico Madrid are La Liga's form club since enjoying a World Cup-winning bounce
Last updated on .From the section European Football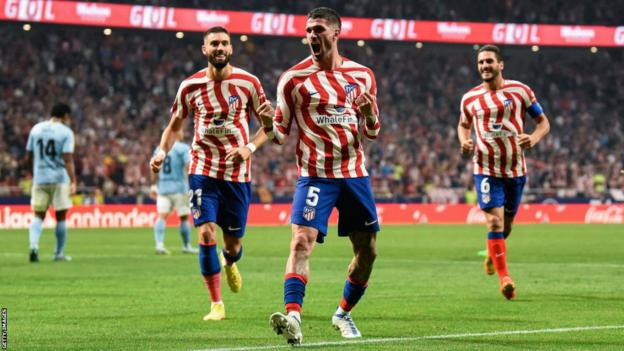 As Rodrigo de Paul was winning the World Cup with Argentina, his Atletico Madrid boss Diego Simeone was in the stands watching.
Between posing for selfies with old 'friend' David Beckham and sporting the iconic blue and white of Argentina, the manager nicknamed El Cholo sent regular text messages to his charges in Qatar before he and the compatriots on his technical staff gave them the warmest of welcomes on their return to Madrid as world champions.
"Cholo has always been a reference," De Paul tells BBC Sport. "He was as a player when we were still very young, when we were little boys, he was a very outstanding figure for the Argentina side and I still remember the 1998 World Cup.
"He was a model to be followed and even more so because we play in a similar position."
Simeone the fan was delighted to see Argentina achieve something he could not in three attempts as a player. Simeone the coach must have been surprised by the impact that their success has had on his Atletico Madrid side.
Before the World Cup, Atletico won eight of 15 games in La Liga, losing four. Since three of his squad returned as world champions - De Paul, Angel Correa and Nahuel Molina - Simeone's outfit have won 10. They are unbeaten in 13 since defeat by Barcelona in January.
"Lots of teams after playing the World Cup feel physically and mentally exhausted and they have declined," adds midfielder De Paul. "But we have found a dynamic that allowed us to make many consecutive wins and we feel much more comfortable now on the pitch."
A run of six successive wins has moved Atletico to within two points of Madrid rivals Real in second, though Barcelona - who they face on Sunday - remain 11 points clear at the top.
"I don't think that's a secret, our mindset and dynamics are very important and we have a very good dynamic right now," says De Paul, 28.
It is a player who was on the losing side of the final in Qatar, however - someone only being used for the last half an hour of games until he rejoined permanently in October - who has been Atletico's key man this season.
France forward Antoine Griezmann has been given freedom by Simeone to dictate how he influences the game and has scored 11 La Liga goals, including both in a 2-1 win over Almeria last weekend, and provided nine assists.
"We want him to feel comfortable and want to pass him as many balls as we can so he can feel in charge of the offensive side of the team," says De Paul, who can see the similarities with national team-mate Lionel Messi, someone he calls "a magnificent genius".
"They practically play in the same position, they are completely free. They are the guys that are really in charge of the attacks in their teams.
"Players like him shouldn't have a fixed position, it is very intelligent what Cholo is doing - he can play wherever the coach thinks he can make a difference or where he feels more free so that he can develop his strategies.
"Antoine is a very smart player, he is very intelligent. In football the most difficult thing is making things look easy. Sometimes what you think in your head is not executed by your feet, and he has the specific capacity and intelligence to make everything look easy."
El Cholo and the long-term goal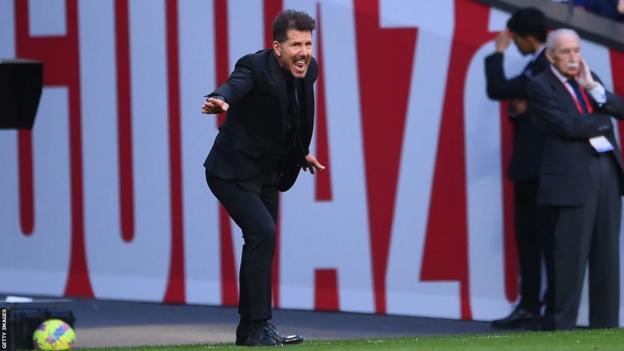 Atletico Madrid's patchy start to the campaign, which included finishing bottom of a Champions League group containing Porto, Club Bruges and Bayer Leverkusen, meant Simeone's future came into question, but De Paul never had any doubts about his boss.
"For me, it's always a great pleasure to be able to be trained by Cholo Simeone, it's an honour," he adds.
"This is his home. Sometimes journalists have their doubts about these issues but internally that was definitely not the case. As far as the club is concerned there were no doubts Diego was going to continue with the plan and that he was going to be here this season and next season too."
Simeone has delivered two league titles on top of success in the Copa del Rey and Europe, while also steering Atletico to Champions League qualification in each of the past 10 seasons.
"When you live with the same thoughts for a long time, things become much easier," explains De Paul. "That's when you can get to many different aspects and generate a much better dynamic approach to what you are doing."
The 52-year-old manager epitomises Atletico's philosophy of being the underdog - the club thrive on being "challengers" and define their values as "brave, brotherhood, rebel".
An upturn in form since the World Cup may have improved Atletico's immediate fortunes on the pitch but off it more than a decade of work has allowed them to continue competing with clubs who boast a bigger budget.
The club claim to have the largest academy in the world, own clubs in Canada and Mexico and have a dedicated innovation lab for developing cutting edge methods. The jewel in the crown is their impressive Metropolitano home, which will soon be surrounded by the club's sports city.
The goal is to continue this growth across the board, without losing sight of their values.
"We have a clear-cut target and that is every year we want to play the most important tournament of Europe, the Champions League," adds De Paul.
"We're doing things properly, we are achieving things. The obligation to win the league belongs to other teams, not ours, but we are going to try and do our best until the very end."