Chelsea's takeover - one year on

published at 14:58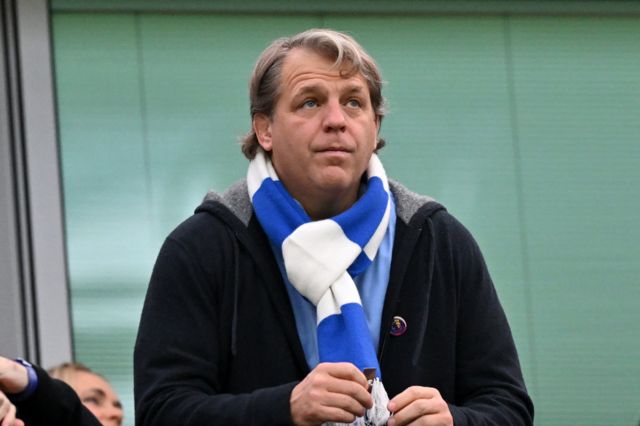 Nicola Pearson, BBC Sport
It is one year to the day since Todd Boehly's consortium and the US private equity firm Clearlake Capital completed their £4.25bn takeover of Chelsea from sanctioned Russian owner Roman Abramovich.
To say it has been a turbulent first 12 months in charge could be something of an understatement.
At the time of the announcement, American businessman Boehly said: "We're all in - 100% - every minute of every match. Our vision as owners is clear: we want to make the fans proud."
In a season in which the side broke a number of unwanted club records and finished in the bottom half of the table for the first time since 1995-96, you would struggle to find a fan who agreed with the latter of the statement.
While it's difficult to question the owner's commitment to be "all in" - the 49-year-old has been a regular face at games and invested over £600m in new players - this has arguably come as a hinderance rather than a help at times.
His visit to the Blues' dressing room, external after defeat to Brighton in which he labelled the season "embarrassing" did little to lift the spirits and the transfer spending spree that created a bloated squad left even Thiago Silva questioning the owners strategy.
The takeover was viewed as a new era for Chelsea in which those running the club would do so in a different way to what went before, with more patience and a vision for the long term.
And yet, they did something not even the ruthless Abramovich had done - sacking two managers in one season.
New head coach Mauricio Pochettino will in fact be the fifth person to take charge of the Blues after Thomas Tuchel, Graham Potter, Bruno Saltar and Frank Lampard all had a spell in the dugout over the campaign.
If this was a game of football manager, you might have hit the restart button.
But, with a bruising first season out of the way, sporting directors and seemingly more of a structure in place, a summer to clear out and a new experienced man at the helm, this could in fact be the reset Boelhy and his consortium need to make good on their promise to "build on Chelsea's remarkable history of success".