Sir Jackie Stewart tips Paul di Resta for Ferrari
Last updated on .From the section Formula 1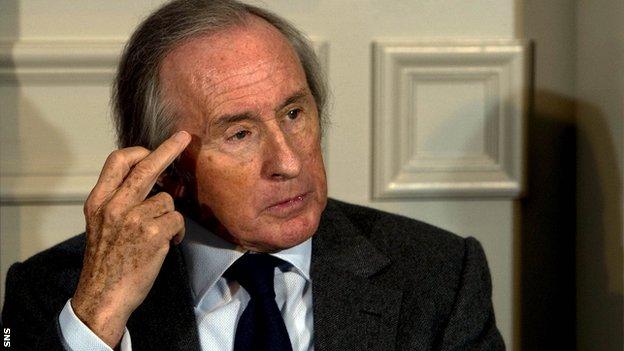 Sir Jackie Stewart believes Ferrari should consider Paul di Resta as an understudy to Fernando Alonso.
"Paul di Resta would be a very good target for Ferrari," said the three-time world champion.
"Alonso probably has the best toolkit of knowledge and physically is one of the best drivers in the world.
"Alonso is almost at his peak and to have a young driver such as Di Resta be an understudy to Alonso is something I'd consider if I was at Ferrari."
Stewart, 72, who won the world title in 1969, 1971 and 1973, believes Force India's Di Resta is showing signs of becoming a top driver.
Di Resta recorded his best result of the season by finishing sixth in the Bahrain Grand Prix last month and the 26-year-old will be looking to put in another good performance in Barcelona this weekend.
Asked if he thought his fellow Scot has what it takes to one day be world champion, Stewart said: "It's difficult to know.
"He has got an enormous amount of talent. I hope Scotland doesn't ask too much too soon from him.
"You've got to be with a top-class team in order to win. You can't do that with a second-rate team.
"Force India are trying hard to be a first-rate team but they're not there yet.
"Paul has been leading that team to better results. I think he's got every chance.
"We've got a great history of drivers. For a small country we are punching above our weight and Paul di Resta is the present generation of that."
Stewart also believes it is one of the most exciting seasons in Formula 1 for a generation.
"There have been four races and four different winners," he enthused. "It's been a very unusual start to the season.
"There's a terrific collection of drivers - six world champions on the grid.
"I don't think there's been a better collection of grand prix drivers in any one season since the late 60s and early 70s.
"We've got Sebastian Vettel, Mark Webber, Fernando Alonso, Lewis Hamilton, Jenson Button, Michael Schumacher, Nico Rosberg, Kimi Raikkonen and Paul di Resta.
"It's a very important season. Pit stops have become more important, both human and mechanical failure have been costly to more than one driver this year.
"You would be gambling to say who's going to win this year's championship."