Peter Sauber slams critics who claim F1 results are too random

By Andrew Benson
Chief F1 writer
Last updated on .From the section Formula 1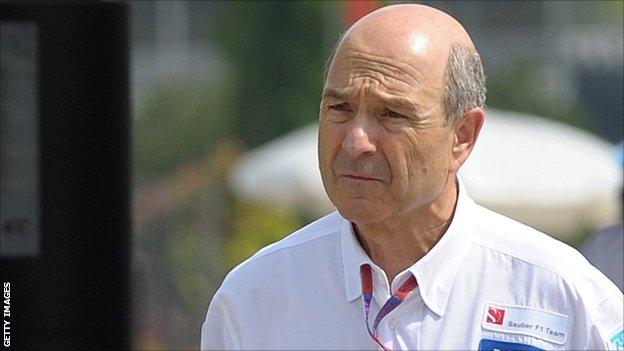 Team boss Peter Sauber has condemned critics who claim Formula 1 has become a lottery this year.
Seven drivers have won the first seven races, amid claims it is too random.
Sauber said: "As far as I can see it's just a handful of people in the paddock who can't get used to not knowing by Friday who's going to win on Sunday.
"The fans see it in a different light. They're delighted with the unpredictability, the sheer variety and the unbelievably close competition."
Most in F1 agree that the unpredictability is down to two main factors - the Pirelli tyres, which teams are struggling to understand, and the fact that competitiveness has increased up and down the grid, with the smaller teams closing the gap on the traditional leading names.
Sauber said: "I've been in F1 for 20 years and it's never been better or more exciting. That's partly down to Pirelli, who are supplying the tyres for this show."
Sauber are one of the traditional midfield teams who have raised their performance this season.
Their Mexican driver Sergio Perez has finished on the podium twice - he was third in Canada last Sunday, and second in Malaysia in March, a race he came close to winning.
The other big beneficiaries have been Williams, whose driver Pastor Maldonado scored his maiden victory - and the team's first for eight years - in Spain last month.
Despite the unpredictability, the top of the championship has a familiar look, with McLaren's Lewis Hamilton leading on points ahead of Ferrari's Fernando Alonso and the Red Bull drivers Sebastian Vettel and Mark Webber.
Some have expressed the view that the big teams will start to consolidate their position at the front, but Hamilton said after winning in Canada that he expected the season to remain unpredictable.
And Sauber said he believed his team could continue to be a force at the front.
"Of course the four big teams have very different financial possibilities compared to the private teams in the middle of the pack," Sauber said.
"But that doesn't in any way discourage us. Our forte is efficiency. The development package that was given its first airing in Barcelona showed what we are capable of.
"The crucial thing is that the C31 gives us an excellent foundation with real potential for further development."
Sauber said his team's results depended on them improving their qualifying form - Perez was 15th on the grid in Canada - and did not rule out winning a race.
"If we manage to exploit our full potential as a team, in other words get everything right from Friday morning to Sunday evening, a great deal is possible," he said.
"After seven races it is patently clear that the C31 [car] can be fast on virtually any kind of track.
"Now, after seven races with seven different winners, so much seems possible.
"In Malaysia we came very close to winning. Further podium places certainly seem a realistic prospect. The prerequisite, of course, is that our drivers go into the race from good grid positions."