Lewis Hamilton will stay at McLaren long-term, team expect

By Andrew Benson
Chief F1 writer
Last updated on .From the section Formula 1118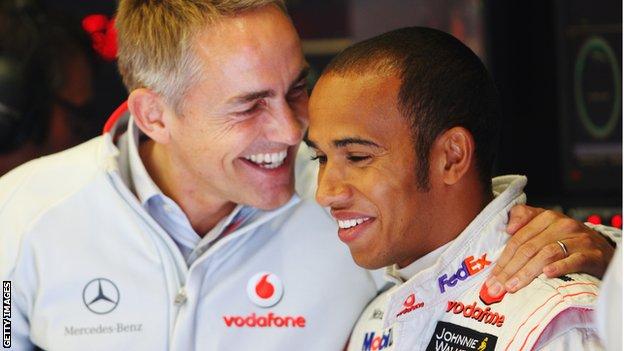 McLaren are confident they can secure a long-term deal with Lewis Hamilton when they come to negotiate a new contract this summer.
The contractual situation of other top drivers means he might push for a one-year deal to keep his options open.
But team boss Martin Whitmarsh is "expecting" to seal a longer contract.
McLaren typically prefer driver contracts that last for three years, with the first two years fixed and the third under option - as is the case with the contract Hamilton's team-mate Jenson Button signed in 2011. Hamilton's current contract was for five years.
McLaren started this year with the fastest car but a series of operational problems have blunted Hamilton's championship challenge, and the team have struggled for pace in the last two races.
The 2008 world champion heads into this weekend's German Grand Prix - with the Hungarian race following a week later - in fourth place in the championship, 37 points off the leader, Ferrari's Fernando Alonso.
His options for the future reduced dramatically last week when Mark Webber signed a new deal with Red Bull for 2013. That leaves only Mercedes, the least competitive of the top teams, as a viable alternative to McLaren for Hamilton.
For 2014, however, at least one seat at world champions Red Bull might be available.
Webber is only on a one-year deal, however, while there is also the possibility that his team-mate Sebastian Vettel might go to Ferrari for 2014.
Alonso is believed to have vetoed having Hamilton as his team-mate at Ferrari.
Whitmarsh said: "We're going to the next two races trying to win, as we go to every race.
"We've known Lewis for a long time. We have been concentrating on a season. There has been more speculation, more concern, more interest in this situation in the media than perhaps within the team or within Lewis's mind.
"We appear nowadays to be often asked questions about it, but I don't think it occupies as much time in our mind as it does in column inches."
McLaren are introducing some aerodynamic upgrades to the car for the German race in the hope of battling for victory against Red Bull and Ferrari.
Whitmarsh said: "The sidepods from the front to the rear are quite different, so you'll notice those and [there are] other bits and pieces that the sharper eye will see."
He blamed the team's unexpectedly poor performance at the British Grand Prix two weeks ago on the team failing to get their tyres into the right operating window. Hamilton and Button finished eighth and 10th at Silverstone.
"For everyone, not just McLaren, trying to understand and exploit the tyres correctly is proving quite a substantial challenge," Whitmarsh said.
He said the team's race was "quite difficult" after a poor qualifying session in the wet, which he blamed on not having enough temperature in the 'intermediate' tyres they were using.
And in the race he said two sets of the same 'hard' tyre that had been prepared in the same way behaved differently on Hamilton's car.