Lewis Hamilton says McLaren will recover in second half of season

By Andrew Benson
Chief F1 writer
Last updated on .From the section Formula 1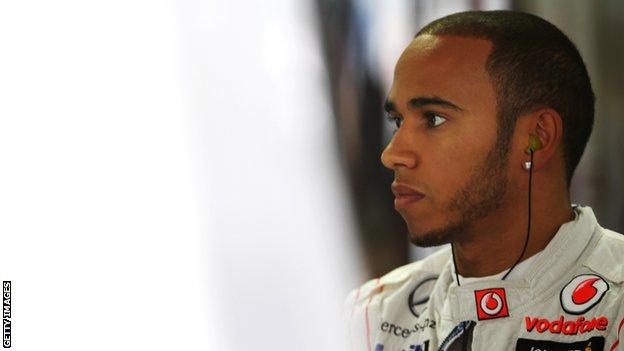 McLaren's Lewis Hamilton believes he can bounce back from a by challenging for victory in Hungary this weekend.
Hamilton retired at Hockenheim with a gearbox problem caused by an early puncture.
But he was was buoyed by McLaren's pace following the fitting of new parts.
"There's good reason to feel confident; our upgrade package seems to have delivered the pace we anticipated," Hamilton said.
Hamilton said McLaren would be stronger in the second half of the season.
He currently lies fifth in the championship - 62 points off the lead, held by Ferrari's Fernando Alonso - after a first 10 races marked by usually strong pace but also operational errors and occasional lack of competitiveness, especially in the wet.
Hamilton said: "Things haven't always gone our way in the first half, but I certainly feel like we're experiencing something of a turning point for the whole team.
"We've really stepped up and delivered the pace we needed, our strategy has been spot-on and our pit stops, despite a troubled start at the beginning of the year, are now consistently the fastest in the pit lane."
Hamilton's team-mate Jenson Button was second at the German Grand Prix, which was won by Alonso, and the team say they can erode the Spaniard's advantage.
Team boss Martin Whitmarsh said: "I firmly believe we have the drivers, car and team to win both titles - and I think the difficulties we encountered during the first 10 races of 2012 have strengthened our resilience and hardened our resolve to fight back to the front.
"At Hockenheim last weekend, we had a car capable of taking on and beating our main rivals - the aim now is to ensure both Jenson and Lewis both score points in every race and to take as many points away from our rivals as possible.
"On paper, it may look a difficult task, but we are singularly determined to close down the gaps between ourselves and the championship leaders."
McLaren managing director Jonathan Neale said the team were "under no illusions about how hard we need to work".
And he said the title would be a three-way fight between Alonso, McLaren and the Red Bull drivers Mark Webber and Sebastian Vettel, who are second and third in the championship table.
"While it is undeniable Fernando has driven really well this season," Neale said, "if you look at the points conversion rate of Red Bull, they are very strong and we have to get in among that mix.
"I don't think Fernando has a clear advantage over Red Bull at this stage."
Neale admitted that the team's uncompetitiveness in the wet was "a source of concern for us" and said he would prefer a dry weekend in Hungary.