Lewis Hamilton 'has told' McLaren boss he wants a new contract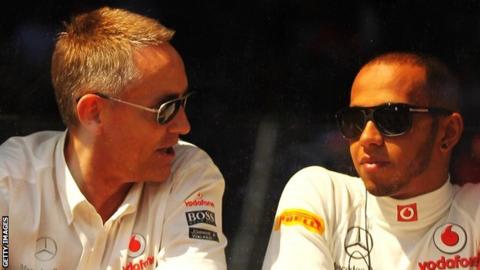 McLaren team boss Martin Whitmarsh says Lewis Hamilton has told him he wants to sign a new contract with the team.
Hamilton, 27, has a deal that runs out at the end of this season and there has been speculation that he could seek a fresh challenge elsewhere.
But Whitmarsh, who has known Hamilton since the British driver was 11, insisted talks have progressed well.
"If Lewis wants to stay in the team, which he has told me he does, then he should do," he said.
A drive is expected to become available at Ferrari at the end of the season, with speculation also surrounding Michael Schumacher's future at Mercedes.
Hamilton, who claimed the driver's championship in 2008 and won the Hungarian Grand Prix last month, is fourth in the driver's standings and will be desperate to improve on last year's fifth place.
The 2011 campaign was doubly disappointing for Hamilton because, for the first time in his Formula 1 career, he was beaten by a team-mate. Jenson Button finished second in the championship behind Sebastian Vettel.
With nine races remaining this season, Hamilton is 47 points behind Fernando Alonso of Ferrari.
Hamilton met Red Bull's team boss Christian Horner at the Canadian Grand Prix in June, fuelling rumours that he was seeking a future away from McLaren.
But Whitmarsh, who has insisted for months that Hamilton should stay, reiterated his stance on Wednesday.
"Ultimately [the contract situation] is relatively straightforward," he said.
"Lewis and I have spoken two or three times at length. I think we are closer than we have ever been... our conversations have been about how we are going to beat the other teams, and how we are going to try and win races."