Ferrari F138 launch: Domenicali urges strong performances

By Andrew Benson
Chief F1 writer in Maranello
Last updated on .From the section Formula 1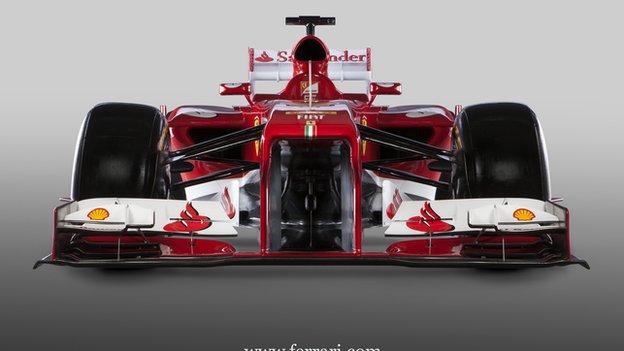 Ferrari have unveiled their new Formula 1 car admitting that they have to change their recent trend and perform from the start of the season.
Team boss Stefano Domenicali said: "The key objective we have is of immediately delivering a competitive car."
Alonso said the big teams will dominate and Ferrari "have to be one of them".
The Spaniard, 31, said he did not expect a repeat of last season, when seven drivers from seven different teams won the first seven races.
"It will be very difficult to repeat what we saw last year with seven winners in the first seven races," he said.
"I think it was a one-off as a result of the regulation changes [banning exhaust-blown diffusers]. Now, with things a bit more stabilised, we saw at the end of the season the top teams emerge and so I think it will be highly unlikely we will have seven races and seven winners.
"There will be three teams who win all the races and we have to be one of those teams."
Alonso lost out last year in an intense battle with Red Bull's Sebastian Vettel, the second time in three years he and Ferrari had narrowly been beaten by the German.
Ferrari have restructured the team and changed their approach to aerodynamic design work in the wake of problems last year.
The wind tunnel at the Maranello factory gave confusing results and this has been taken off line for improvement. The new F138 car has been designed exclusively using the former Toyota F1 tunnel in Cologne.
Domenicali said: "Unfortunately in recent years we have at the beginning of the winter unfortunately not been able to be right on top of what we are doing.
"We have tried to look at our organisation to be much more effective in the preparations over the coming week."
"We have come from a season that has been intense to say the least. To come second at the last race is always difficult.
"But we have already forgotten those things which left us with regret last year and we have started improving on the positive aspects of 2012, such as reliability and strategy during the races.
"There are plenty of things that allow us to look forward to the new season."
He said the first pre-season test in Jerez, Spain, next week would "not be to get performance immediately but to check out the things we have developed in our offices".
Alonso is skipping that test and leaving the work to team-mate Felipe Massa and development driver Pedro de la Rosa before starting his pre-season driving work at the second four-day pre-season test in Barcelona, which starts on 19 February.
"I will follow the tests with great interest and all the information that comes back from Jerez of course I will be looking at," Alonso said. "In these next few weeks I will certainly be concentrating on preparing for the championship.
"I think it is right to step back and prepare a bit so I am 100% from [the first race in] Australia right through to [the last in] Brazil.
"We are lucky in this team to have a really good entente - we trust each other implicitly. Pedro and Felipe [and me], we are one person and the same."