Ferrari rule out future Sebastian Vettel-Fernando Alonso pairing

By Andrew Benson
Chief F1 writer
Last updated on .From the section Formula 1106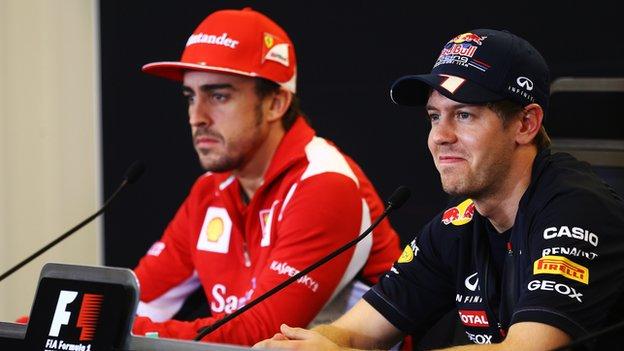 Ferrari president Luca Di Montezemolo says world champion Sebastian Vettel will not join the Italian team as long as Fernando Alonso is there.
Ferrari sources said last summer that Vettel had an arrangement to join the team in the future, with the initial intention for that to be in 2014.
But asked if he could envisage Vettel at Ferrari with Alonso, Di Montezemolo said: "No, I don't think so."
Alonso's contract with Ferrari runs until the end of 2016.
Ferrari have always said publicly that having two 'A-list' drivers is hard to manage - Di Montezemolo said in October that he did not want "two roosters in a henhouse".
Nevertheless, Di Montezemolo has never hidden his admiration for Vettel and his curt response to a question on the subject of Vettel potentially joining Ferrari does mark a change in tone.
In December he said the German "would be very good for us" if Alonso decided to leave the team.
In January, when team boss Stefano Domenicali was asked about teaming Vettel with Alonso, he referred to it as a "dream team", adding: "Never say never."
Ferrari's plan was said to have been for Vettel to join in 2014 - even though the German's Red Bull contract ran until the end of that season.
But sources close to Ferrari now say the Spaniard and the team renegotiated their agreement towards the end of last season and that one of Alonso's demands was that they not sign Vettel alongside him.
Although Alonso will be 35 at the end of his current Ferrari contract, he is believed already to be discussing extending it.
Meanwhile, Vettel has consistently emphasised how happy he is at Red Bull and the triple world champion is expected to extend his contract with the team to the end of 2016.
It has recently emerged that team boss Christian Horner has signed up with Red Bull to the end of 2017 and chief technical officer Adrian Newey, regarded as the finest motorsport designer in the world, also has a multi-year contract with the team and is expected to stay for the next several years.
The developments seem to end any chance of Vettel moving to Ferrari in the foreseeable future.
Di Montezemolo, who was speaking at the launch of the new Ferrari F1 car, said he expected Vettel and Red Bull again to be their strongest rivals this season.
Vettel has won the last three drivers' titles, twice sealing the crown narrowly ahead of Alonso at the final race of the season.
Di Montezemolo also criticised F1 boss Bernie Ecclestone for staging events in countries where there was no appetite for the sport at the expense of races in Europe.
"I believe we should have two grands prix in Italy, rather than having tracks far away in the middle of nowhere, that are difficult to reach," he said.
"But I would like to congratulate Ecclestone for reaching an agreement on a grand prix in Austin [in Texas] because we all wanted to have a grand prix in the US and they have found a very good solution."