Caterham set modest goal for new season

By Andrew Benson
Chief F1 writer
Last updated on .From the section Formula 1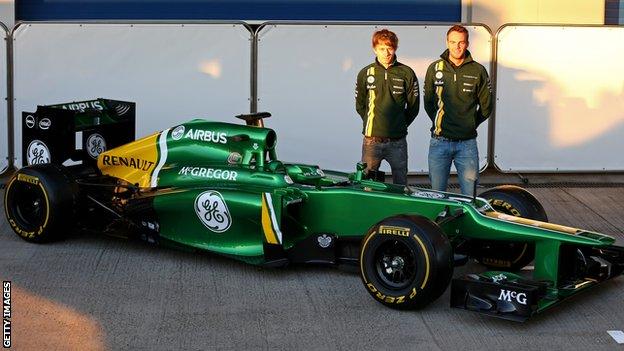 Caterham have launched their new Formula 1 car with the modest target of making more progress towards catching the main midfield teams.
The team were 10th out of 12 teams last year and disappointed to still be battling at the back of the field.
Team boss Tony Fernandes described the new car as an "evolution" aimed at "giving us a chance of continuing to make progress towards the teams ahead".
Novice driver Giedo van der Garde took the wheel for the first day of testing.
Caterham are this week joining the rest of the grid for the start of pre-season testing in Jerez in Spain, which runs from Tuesday to Friday.
The car is noticeable for continuing to have a step on the top of the nose, despite rules this year allowing teams to cover them up with a "vanity panel" to improve the ungainly looks created by different height requirements of the front nose and the front of the chassis in the region of the front wheels.
The team have also redesigned the bodywork to improve aerodynamics and adopted a McLaren-style exhaust in an attempt to create downforce from the exhaust gases.
Technical director Mark Smith said: "We have made a number of significant changes to the car that takes it from the package that gained us 10th place in the 2012 championship in Brazil.
"Among the most obvious are around the lower chassis where the sidepods have been significantly undercut to improve airflow to the rear of the car.
"The diffuser, engine cover and cooling exits have also seen major changes and there are more subtle improvements to other areas of the car, such as the sidepod turning vanes and the lower tea-tray area.
"This is the package we will take to race one in Australia and as part of the 2013 upgrade program we will then bring new front and rear wings and a new diffuser soon after the start of the season."