No special treatment for Button, says F1 boss Whitmarsh
Last updated on .From the section Formula 1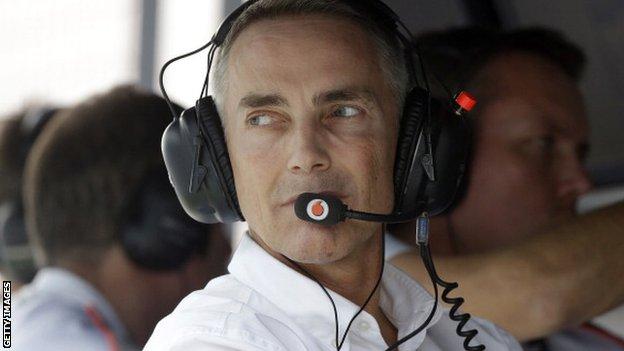 McLaren principal Martin Whitmarsh has said Jenson Button will not be his team's lead driver for the forthcoming Formula One championship.
Button will compete on a level playing field with new driver Sergio Perez.
"We give both of our drivers equal opportunity to win races and to win the World Championship," said Whitmarsh.
"I think Jenson is in absolutely great form and very determined to win a World Championship but one of the guys he's got to beat is Sergio Perez."
Former Sauber driver Perez was offered a deal to join McLaren after Lewis Hamilton defected to Mercedes for the 2013 season.
Whitmarsh was speaking during pre-season testing at the Jerez circuit in southern Spain, where Button set the fastest time in Tuesday's opening session.
And while acknowledging that 2009 champion Button was by far the more experienced driver, Whitmarsh said Perez and Frome-born Button would operate on an equal footing.
"Sergio is 10 years younger, a lot less experienced but really one of the fresh and new talents in Formula One," he added.