Williams confident of improvement in 2013 after launching new car

By Andrew Benson
Chief F1 writer
Last updated on .From the section Formula 1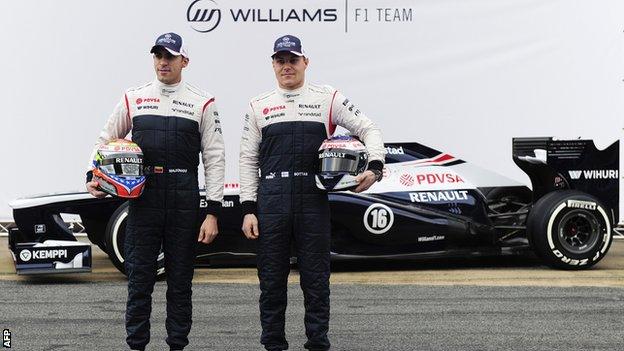 Williams were the final team to unveil their 2013 car on Tuesday, and aim to continue progress made last year.
The outfit were more competitive than their eighth place in the constructors' championship showed in 2012.
Pastor Maldonado, who won in Spain in May but did not score for the next nine races, said: "Last season we won a race and were competitive.
"But we must be more competitive this season. Consistency will be our aim to close the gap to the teams in front."
Maldonado is joined in 2013 by Finnish rookie Valtteri Bottas, who last season gained experience by driving in most of the Friday first practice sessions.
Williams showed a marked improvement in 2012 over the worst season in their history the previous year and are confident they are on an upward trend.
Team founder Sir Frank Williams said: "We will have to wait until [the first race in] Australia to truly see what we have, but we believe it is step forward from last year's car which was also a very competitive vehicle.
"Pastor is a delightful character who is a massively determined racer, whilst Valtteri is quieter but still waters run deep and he is a highly gifted driver.
"Williams have been at the top many times over the last 30 years. It's the nature of the sport to have ups and downs, but when we are down we always fight our way back. I'm hoping that, with the current team we have in place, we will be in a position to challenge the very best."
Technical director Mike Coughlan said the new FW35 was "a better, more refined Formula One car than (last year's) FW34".
He said the team had focused especially on improving the use of the exhausts for aerodynamic effect.
This has become a key area of development for F1 cars as they make use of the 'Coanda effect', which defines that gases will stick to a surface they flow alongside, to guide the exhausts gases downwards to the rear floor of the car to improve downforce.
"The Coanda effect is going to be a big thing for us," Coughlan said. "There's been no rule clarification concerning this area of the car, so we'll work closely with Renault to maximise the available gains.
"Use of the DRS [overtaking aid] is more restricted this year, so we'll take some resource away from that and focus on other areas."
The car has made use of rules this year allowing teams to cover up the unattractive 'step' on top of the chassis, where there is a transition between two height requirements, and has sharply sculpted sidepods aimed at improving airflow to the rear of the car.
The new Williams makes its first track appearance at the second pre-season test, which started at 08:00GMT on Tuesday at Spain's Circuit de Catalunya and runs until Friday afternoon.
One of the key areas of interest will be last year's world championship runner-up Fernando Alonso's first run in the new Ferrari after the Spaniard sat out the first test in Jerez two weeks ago.