Fernando Alonso 'relatively confident' of 2013 title challenge
Last updated on .From the section Formula 1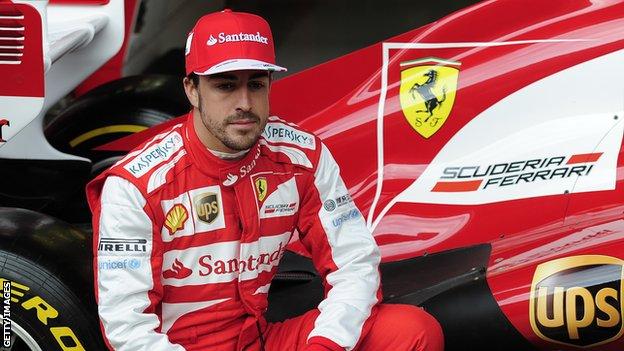 Ferrari's Fernando Alonso said after driving his 2013 car for the first time that he was "relatively confident" of battling for the title this season.
"I'm sure we will be strong [at the first race] in Australia," Alonso said.
"To improve the first part of the year is not going to be too difficult so we are relatively confident,"
Double world champion Alonso said he felt Ferrari could do better than last year because they were in better shape than they were during pre-season testing in 2012.
Last year, the team discovered their car was more than two seconds off the pace and needed major work before the season, and it was still more than a second behind at the first race, when Alonso failed to get into the third and final part of qualifying, the top 10 shoot-out.
But the 2013 Ferrari has not had such troubles, although no team knows exactly how competitive their car is yet.
Alonso, 31, feels Ferrari still had a lot of work to do because the car had not been competitive at the end of last season despite his title challenge - he lost out to Vettel by three points only at the final race of the season in Brazil.
"At the end of the year we were quite far from [pace-setters] Red Bull and McLaren, in a group with force Force India and Sauber behind Lotus," Alonso said.
"We cannot be in that group; we have to be in the group with the leaders. We have to do a good job this winter.
"We are trying some new parts in this test, more in the last test and more in Australia, so Friday (practice) in Australia will be also important and we need to arrive in a better condition than we finished.
"But the competitors are doing a good job and it will be interesting.
"My only optimism about 2013 is that I fought for the championship last year with a car that was two seconds off the pace in winter and in the first four races we were struggling to get into Q3 and even in those problems we were fighting for the championship.
"So we need to be positive and think we will fight this year for the championship if we improve the car a little bit."
Vettel was also driving on the first day of the second test and ended up fourth fastest, just behind Alonso. Nico Rosberg of Mercedes set the pace from Lotus driver Kimi Raikkonen.
Vettel said he expected another close season in 2013.
"I don't expect any real difference to last year," he said.
"I think it will be very close, it is very unpredictable, it is not between one or two drivers or teams. Last year we had seven drivers wining the first seven traces and there is nothing that speaks against that."
Vettel said the teams did not know where they would stand at the start of the season partly because the cold weather in testing in Spain meant the tyres were not working as they would at the first races in Australia and Malaysia next month.
"It is still a little too cold for the tyres to work properly," Vettel said. "It's quite tough to keep the tyres alive for many laps.
"We can be quite happy with what we did. I'm not comparing to anyone else at the moment, it is still a little early.
"You need to be careful because it's too cold, as simple as that. We want to understand the tyres but in these conditions it is tricky."