McLaren deny that Ron Dennis has been demoted

By Andrew Benson
Chief F1 writer
Last updated on .From the section Formula 1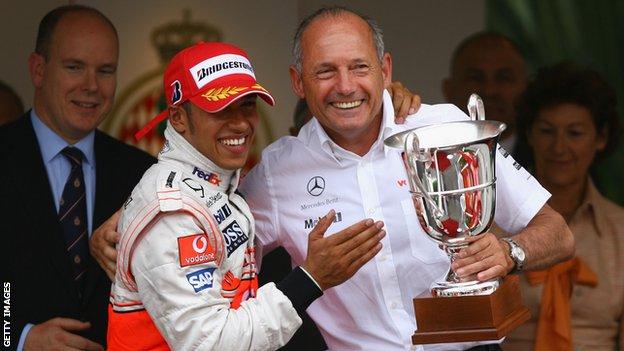 McLaren have denied that chairman Ron Dennis has been demoted.
The 65-year-old - the man who created the modern McLaren - oversaw 10 drivers' world titles and seven constructors' titles before stepping down as team principal in 2009.
He remains chairman of the boards of McLaren Group, including the Formula 1 team, and McLaren Automotive, the road-car company, with full voting rights.
Dennis also rejected claims that his position at McLaren is under threat.
His role did change in January from an executive to a non-executive position, but that was as per a contract that started in 2010.
Germany's Auto Motor und Sport reported on Friday that Dennis had been demoted to non-executive chairman as a result of McLaren Automotive losing money.
McLaren said in a statement that Dennis remained as chairman of both boards, remained a "significant shareholder" of both companies, that his change of role was chosen by Dennis himself and that Automotive was on track to return a profit this year.
F1 insiders have said that relations between Dennis and his fellow shareholder and long-time partner Mansour Ojjeh have soured to such an extent that Ojjeh and the Bahraini government's investment arm Mumtalakat, which owns 50% of McLaren Group, are considering ousting him.
There are also claims Dennis has tried to oust Martin Whitmarsh as principal of the F1 team and regain that position himself.
Dennis insisted to BBC Sport that was all "categorically untrue" and said there was no doubt that he would see out the terms of his contract with McLaren, which runs through 2014, and may well continue longer than that.
He and Ojjeh each own 25% of McLaren Group, with Mumtalakat owning the remaining 50%.
Dennis told BBC Sport: "A little over three years ago I signed a five-year contract with the company against the background that both then and now I am the joint second largest shareholder in the group with 25% - and I own 15% of automotive.
"My position for the first three years of my contract was executive chairman.
"At my request - I drafted the contract and agreed terms - my role went from executive chairman to non-executive chairman in January 2013.
"The difference in the job is I don't have accountability for the actions of the management. I am the chairman of both of the boards - it gives me formal obligations - and a significant shareholder."
Dennis admitted there had been "rare" disagreements at board level but added: "In boards throughout the world there are always things that are discussed. Some people agree, some people don't.
"There has absolutely been no suggestion of my role in the company changing beyond the change of roles that took place as per my contract in January."
Asked whether there was any doubt that he would stay at McLaren until at least the end of his current contract, Dennis said: "Categorically, that is exactly what is going to happen - unless I request for it to be changed, and I don't intend to. I couldn't work any harder than I am on a variety of things."
Dennis also said that suggestions he had been interfering in the F1 team without the approval of fellow board members were "ridiculous" and that he had "categorically not" acted towards trying to remove Whitmarsh.