Fernando Alonso would welcome Lotus's James Allison at Ferrari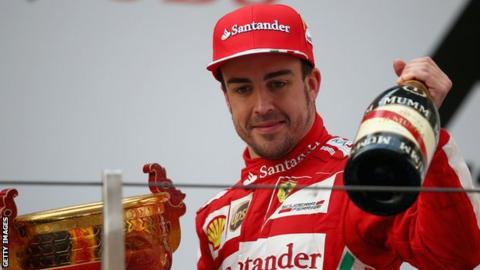 Former Lotus technical director James Allison looks set to join Ferrari after their lead driver Fernando Alonso made it clear he would welcome him.
Lotus announced Allison was leaving on Wednesday, and replaced him with their engineering director Nick Chester.
Alonso told Italian TV: "If Allison is free, it is better to have him with us than strengthening another team."
It is unlikely Alonso would have spoken so positively about the idea if Allison was not close to joining Ferrari.
"I worked very closely with him and was World Champion with him two times," Alonso added in a separate news conference.
"Then I came back to Renault in 2008 and in 2009 he was already technical director and we were not so successful with that car.
"But we saw the Lotus car in the last two years and there is no secret that he's one of the top men here and we will see what future he has."
Allison is one of the most highly-regarded design engineers in F1 and has been attracting the attention of Ferrari, McLaren, Williams and Mercedes.
He has turned down McLaren and Williams, while Mercedes have indicated he will not be joining them as they already have former McLaren technical director Paddy Lowe joining the team in 2014.
Ferrari president Luca di Montezemolo said on Wednesday: "We will communicate when there is news to say, but not where there are rumours."
If Allison does join Ferrari, it is unclear what role he would have. Their technical director Pat Fry, who worked with Allison at the Benetton team in the 1990s, has only been in his job for a little over 18 months.
It is not thought likely that Allison would move to Ferrari as Fry's deputy, so it remains to be seen how the team would split responsibilities should they end up working together.
Alonso added that he was optimistic of a strong showing at his home Spanish Grand Prix this weekend.
The Spaniard needs a good result to close the 30-point deficit to championship leader Sebastian Vettel, after mistakes in two of the first four races affected his results.
"Maybe it's the first time we arrive with a competitive car but that doesn't mean you will fight for top places if you don't do everything right and don't put together a good weekend," said Alonso, who is fourth in the championship behind Red Bull driver Vettel, Lotus's Kimi Raikkonen and Mercedes' Lewis Hamilton.
"In the first four races we were competitive. We thought we could fight for the top places if the race was without problems.
"We will try here to have a clean race with no problems and if that will be enough to put us in contention for the victory it would be nice. But if it's not possible then we will try and be as high as possible.
"It is a weekend we approach with a positive mentality and not a defensive mentality like the first three years at Ferrari.
"It is a very different feeling and a different package we have this year, which brings us a good feeling that we can have a good championship. We are some points behind now, but the championship is long."
Raikkonen said Allison's departure would not affect his decision about where he drives next year.
The Finn, strongly linked to a move to world champions Red Bull, said: "I make my decision on what is best for me.
"Of course, you want to have the best people around but it will not make the decision for me whether I stay or not."
Lotus driver Raikkonen said he did not know whether losing the highly-rated Allison would prove damaging for the team.
"You always want to keep good people but there is no way of me telling whether it will affect us in the future," Raikkonen said.
"It has happened, we live with it and hopefully this doesn't really change much."
He added: "Obviously he has been a big part of he team for a long time but everyone is important. All of them do their work and without them the whole thing wouldn't run.
"For sure, he's a good guy and it's a shame he is leaving but that's life and we will see if it makes a difference or not.
"We'd rather keep him than he goes but there are a lot of things that can happen in everybody's life. I don't know the reason. It is not my thing to comment. It's a shame but time will tell if it makes a difference."
Spanish Grand Prix, day one
Friday, 10 May:

First practice: 08:55 BST live on BBC Two and BBC Radio 5 live sports extra, live text commentary online. Second practice: 13:00 BST live on BBC Two, 12:55 BST on 5 live sports extra, live text commentary online
Spanish Grand Prix, day two
Saturday, 11 May:

Third practice: 09:55 BST live on BBC Two and BBC Radio 5 live sports extra, live text commentary online. Qualifying: 12:10 BST live BBC One, 12:55 BST on 5 live sports extra, live text commentary online.
Spanish Grand Prix, day three
Sunday, 21 April:

Race: 12:10 BST live BBC One and 13:00 on 5 live, live text commentary online.