F1: Kevin Magnussen may replace Sergio Perez at McLaren

By Andrew Benson
Chief F1 writer
Last updated on .From the section Formula 1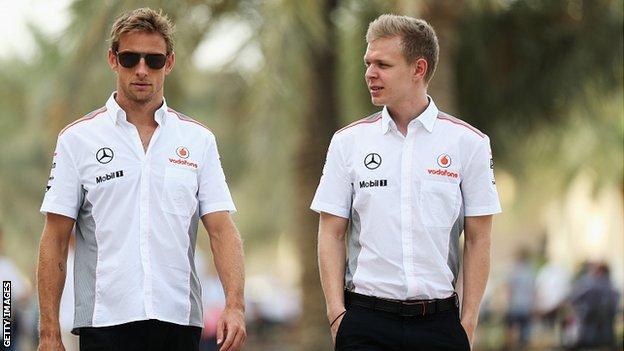 McLaren are considering replacing Sergio Perez with novice Dane Kevin Magnussen as Jenson Button's team-mate next season.
A series of unconvincing displays by Perez in his first year with the team have raised questions about whether he is up to the level demanded by McLaren.
McLaren team boss Martin Whitmarsh described the Mexican's performance in Abu Dhabi on Sunday as "disappointing".
But Whitmarsh is wary of the risks of promoting a driver with no experience.
The 21-year-old Magnussen is the son of former McLaren and Stewart driver Jan Magnussen, and won the Formula Renault 3.5 feeder series this year. He became a McLaren development driver in 2012.
Whitmarsh said in Abu Dhabi that McLaren would be making their driver announcement "quite shortly", but Perez's lack of competitiveness has increased concerns about continuing with him, and a senior insider said on Thursday that there was "no rush" to make the decision.
McLaren are continuing their efforts to sign Ferrari's Fernando Alonso for 2015, but realise they need the strongest possible driver line-up for next season.
Button's deal runs out at the end of 2014 and he is keen to stay on for the start of McLaren's new engine partnership with Honda in 2015.
McLaren consider both Magnussen and his fellow young driver, Belgian Stoffel Vandoorne, as potential future F1 champions, and if the team signed Magnussen, they would then be able to choose between him and Button as Alonso's team-mate for 2015 if they were successful in tempting the Spaniard away from Ferrari.
"If I get the chance with a big team then it would be because they expect me to deliver and only because they think I am the right solution," said Magnussen.
"I feel I'm ready. I have won in everything I have driven in so why would that change in Formula 1?"
F1 is going through a major rule change next season, with a change of engines from 2.4-litre normally aspirated V8s to 1.6-litre V6 turbos with extensive energy recovery, as well as new chassis rules.
The new cars are expected to be much more complicated to drive. Button said in Abu Dhabi that the rule change would favour experienced drivers and that it was a risk to throw drivers into F1 too soon.
But Magnussen said: "If anything, it could be an advantage for us rookies because it means that experience counts for less."
Some in McLaren believe Button is pushing for Perez to stay on because he knows he can handle him, and therefore it strengthens his chances of staying in 2015.
Senior figures in McLaren believe Perez has proved this year that he does not have the skill-set to flourish under new rules that will add complexity to F1. They also question whether he is fast enough.
Button has out-qualified Perez in nine of this year's 17 races and McLaren believe the Englishman is not among the fastest drivers in F1, who are recognised to be world champion Sebastian Vettel, Alonso and Mercedes driver Lewis Hamilton. They consider Button to be at the top of the next category of drivers, but the best of the field in mixed conditions.
McLaren have been impressed by Magnussen's pace and maturity.
He has been showing greater speed than Perez in the team's advanced simulator and has been put in striking performances in his two tests with the team, in Abu Dhabi last November and at Silverstone in July.
Whitmarsh described Magnussen as "lightning quick" at the Korean Grand Prix last month, adding: "Kevin has had two runs in an F1 car. In Abu Dhabi on his third flying lap, he did a time that was good enough for sixth on the grid, which is pretty impressive."