Formula 1: Sebastian Vettel rivals 'encouraged booing'
Last updated on .From the section Formula 1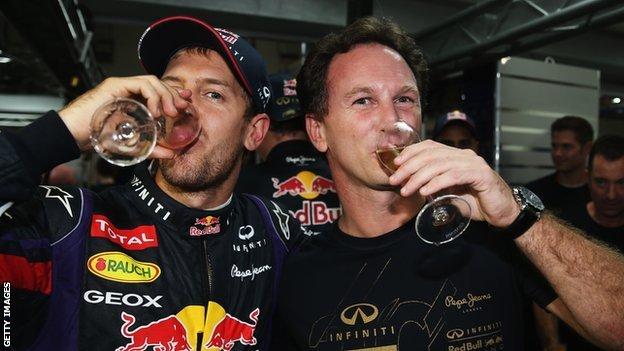 Red Bull team boss Christian Horner says Sebastian Vettel's rivals have encouraged the booing of the four-time world champion.
Vettel, 26, has been heckled by Formula 1 fans at many races this season.
The German's domination and ignoring orders not to pass team-mate Mark Webber at the Malaysian Grand Prix are cited as reasons for the booing.
Horner said: "It is difficult for him to handle. Whilst he's not betrayed it, he's felt it and not understood it."
Webber led after the final pit stops of the Malaysian Grand Prix in March and the drivers were told to hold position to the end of the race, but Vettel passed Webber after a tussle with 13 laps to go. Vettel later apologised for the incident.
Horner, who was interviewed by England's rugby World Cup-winning coach Sir Clive Woodward for a special programme broadcast on BBC Radio 5 live, also said: "The perception comes from what happened at Malaysia and that he stole a win from Mark Webber. He was then portrayed as the bad guy.
"It has been convenient for some of his rivals to treat him like that and they have encouraged it, whether that's Fernando Alonso taking off his cap and throwing it in the crowd as soon as Sebastian talks on the podium to get a reaction.
"The great thing about Sebastian is that he has not risen to it, but he has felt it and is hurt by it. Of course, there is this pantomime villain scenario with an X-Factor mentality.
Vettel, who has won 11 of the 17 races so far this season, including the last seven in a row, wrapped up his fourth consecutive Formula 1 title in India last month.
Only three other drivers have won that many - Juan Manuel Fangio, Alain Prost and Michael Schumacher - and only Fangio and Schumacher have won four or more in a row, as Vettel now has.
"The biggest thing about him is his strength of character," added Horner. "He doesn't look at the internet or read newspapers about motorsport. So often he seems so uniformed, but he feels what is going on.
"At 26 years of age, he's hugely impressive with the way he carries himself and the way he has developed as a young man.
"He is always under pressure, always under scrutiny. Of course, the more successful you are, the bigger the fall, and people are looking for that fall. But he has dealt with that outstandingly well."