Fernando Alonso fears Red Bull will continue to dominate in 2014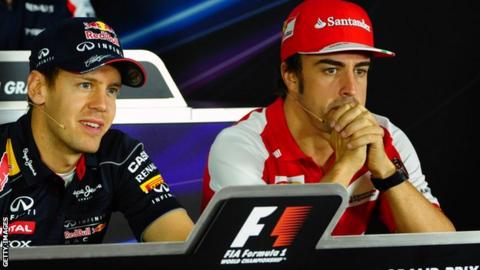 Ferrari's Fernando Alonso has admitted he is "concerned" Red Bull's performance advantage is so big it will carry over into next season.
Alonso, 32, said Ferrari had "good confidence" they would be competitive, but added that it was "only a hope".
Red Bull's Sebastian Vettel has won a fourth F1 drivers' title in a row.
"Red Bull has a one-second advantage, so they can put whatever exhaust blowing or engine in their car and they are still on pole," said Alonso.
Those remarks are a reference to a technology which uses exhaust gases for aerodynamic effect. Red Bull exploit this better than any other team to increase downforce, while Ferrari have struggled with it.
This technology will not be available next year because the exhaust pipes must exit in an area where they cannot be used in that fashion.
Alonso added that Ferrari's new technical director James Allison, who joined from Lotus in September, expected the Italian team to "come back to normal next year".
He secured second place in the championship behind Red Bull's Sebastian Vettel with a fifth place finish at Sunday's US Grand Prix.
The Ferrari team leader was a genuine challenger for Vettel until mid-season, since when the German and his team have moved on to another level and won eight races in a row. Vettel tied up the title in India three grands prix ago.
Alonso has finished second to Vettel in three of the last four seasons, taking the title fight to the last race in both 2010 and 2012, even though Ferrari's car was not a match for the Red Bull on performance during any of those campaigns.
The Spaniard admitted after the race in Austin, Texas, that Ferrari's lack of performance was "more and more frustrating because for whatever reason we are losing a bit of pace - now entering in Q3 (the top-10 qualifying shootout) is difficult; entering in the points is difficult".
He added that the team needed to "push to the maximum for next year".
Asked about Alonso's comments, team boss Stefano Domenicali said: "It is vital that we deliver a good car for all of us.
"His frustration is our frustration. If you are not able to give a good car or a fast enough car to a driver who is always fighting like hell up to the right moment, it is very important that we focus on how we develop the car in the future. That is a priority I would say."
Allison, who joined the team from Lotus on 1 September, believes he can lead them back into a position where they compete consistently at the front.
"Ferrari is an extremely prestigious Formula 1 team with a lot of resources and an extremely high level of expectation," said Allison, who also worked at Ferrari during Michael Schumacher's five consecutive world titles in the early 2000s.
"There is really no result other than winning that is good enough at Ferrari.
"So there is a lot of pressure to make sure I play my part in achieving that, but it is a wholly realistic ambition.
"It's a team with the kit, with the resources, with the people and with the drivers to get the job done, so I'm looking forward to being there when it happens."
Allison said that his predecessor as technical director Pat Fry, who has been moved into a different role as engineering director, had made "a lot of the changes necessary".
He added: "There is much more to be done but I'm a lucky chap to be picking up where I am."
Allison did not give a timescale for when he thought that might be, but insiders say he believes it will take more than one season - and that it will only happen if he is allowed to make the changes he feels necessary without interference.