Lotus owner Gerard Lopez reveals team is in £114m of debt

By Andrew Benson
Chief F1 writer
Last updated on .From the section Formula 1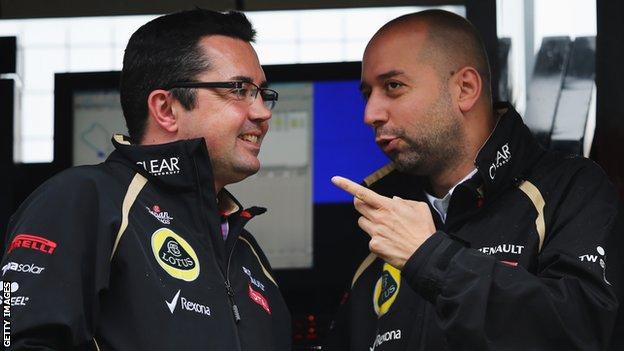 The owner of Lotus has revealed the team have £114m of debt, but insists their future is not in doubt.
Gerard Lopez, co-owner of the Genii Capital investment company that runs Lotus, says most of the debt is internal.
He added that Kimi Raikkonen, who quit two races before the end of last season because of non-payment, had "got part of his salary and will get the rest".
Lotus owed Raikkonen 17.15m euros (£14.5m) at the end of the season.
Lopez told Germany's Auto Motor Und Sport magazine: "We have around £114m of debt, of which more than £80m debt is with ourselves (Genii). Why would we demand the repayment of these (internal) debts? That makes no sense. We reconciled the money as marketing expenses. At the moment, it is important that the team goes forward."
One of the reasons for the delay in paying Raikkonen was that Lotus were waiting for an investment deal with a group called Quantum to go through.
This was announced in July but there were continued delays and Lopez revealed he had now ended his links with the US-Middle Eastern group.
Lopez added that the team's finances had been boosted by sponsorship money from their new Venezuelan driver Pastor Maldonado.
The 28-year-old's backer, the Venezuelan state oil company PDVSA, is understood to providing about the same £30m a year as they paid Williams from 2011-13.
"The budget gap from last season was again covered by us," Lopez said. "The Quantum money never arrived. We have now killed the talks.
"For 2014, we will have at our disposal our new sponsor PDVSA's budget. We will not generate any new debt. Genii is still 98% owned by us."
Lotus have yet to announce an engine deal with their supplier Renault, but Lopez insisted they would continue with the French company and that negotiations had been delayed because of the complications of the working relationship between the two entities.
Lopez said: "Lotus is not just a customer at Renault. Our engineers have helped develop the Kers (power-boost system). Therefore, we tried to agree so that it is more than just a motor delivery. This has delayed the negotiations somewhat."
Lopez downplayed the loss of a number of senior engineers to rival teams, including technical director James Allison, who joined Ferrari in September.
"We have lost some engineers to the competition," he said, "but we got about five new engineers from them, from Red Bull, Ferrari and Mercedes. This is the carousel of Formula 1. It operates according to the Darwinian principle - survival of the fittest."
Lopez said he believed that in Maldonado and Franco-Swiss Romain Grosjean Lotus had "one of the fastest driver pairings in F1".
But he admitted that Maldonado, who has proved fast on occasion but volatile, must show more consistency. Lopez compared the Venezuelan to Grosjean, who had a difficult first full season in 2012 before maturing and ending 2013 as the strongest challenger to world champions Red Bull.
"Romain is for me one of the four fastest drivers, maybe even three," Lopez said. "He is now strong in the head and very resistant.
"Pastor still has to take the last step. He is super-fast. We know him very well. Pastor knows our team boss Eric Boullier from six years ago, when he was the manager of Dams (a GP2 team).
"Pastor must now go through the same phase as Romain. He needs to learn that a Grand Prix does not consist of a few fast laps but of an entire weekend. He needs to control his speed better."