Mercedes: Red Bull boss Christian Horner impressed by rivals' testing

By Andrew Benson
Chief F1 writer
Last updated on .From the section Formula 1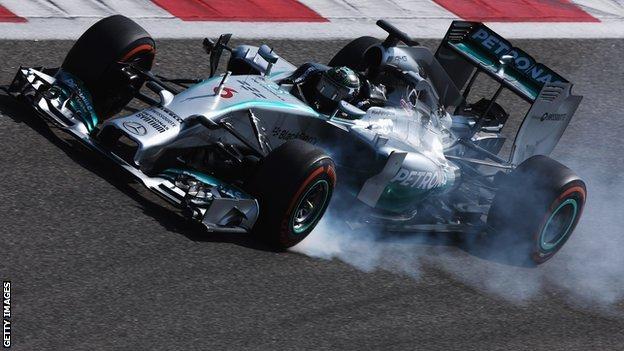 Mercedes appear to be the favourites ahead of the new season as testing reaches its halfway point, says Red Bull team boss Christian Horner.
"Mercedes have done an impressive job. You'd have to say they look the favourites," Horner told BBC Sport.
"They're doing mileage, running round competitively and they're in a strong position if the race was tomorrow. Thankfully, the race isn't tomorrow."
F1 is introducing the biggest rule change for a generation this season, with 1.6-litre turbo hybrid engines and a raft of new aerodynamic regulations, and Horner admitted he is not sure Red Bull will finish the first race of the season in Australia on 16 March.
"It's a difficult question," he said. "For sure every team has got a reliability concern up and down the paddock because the technology is extremely new.
"We have a bit of mileage to catch up. We are hoping to have a strong second half of testing. For sure, reliability, not just in Melbourne but for the first few races, is going to be an issue."
Red Bull and engine partner Renault did more miles in Bahrain on Wednesday than they managed in the previous five days of testing in total, but Horner played down the seriousness of their problems.
"The problems have been varied," he said. "We've had some problems on our side and a few problems on the Renault side.
"But this is what testing is for. You aim to come to these venues to try to understand what issues you've got and work your way through them, and that's exactly what we've been doing.
"There are no trophies for winter testing. It's about doing your homework and background understanding and trying to sort out the reliability of the car.
"It's a massive regulation change so the technology is still quite immature. Together with Renault, we have done a lot of winning and we work very well as a unit."
Horner said he had faith in Renault's ability to solve the problems that affected their testing.
"All 47 of our grand prix victories have come with Renault," he said. "They know what they're doing. There are some tremendously bright people there and they don't lose that ability overnight.
"We have every confidence. For sure, when you're pushing the boundaries, you're going to have issues."
Horner added that Red Bull had solved the overheating problems that were causing the car to catch fire in the first test in Spain last month.
"In Jerez we went a bit too far but that seems to be under control now, so I'm not too worried in that respect," he said. "To find the limit, sometimes you have to go over it."