F1: McLaren can catch Mercedes says race chief Eric Boullier

By Andrew Benson
Chief F1 writer
Last updated on .From the section Formula 1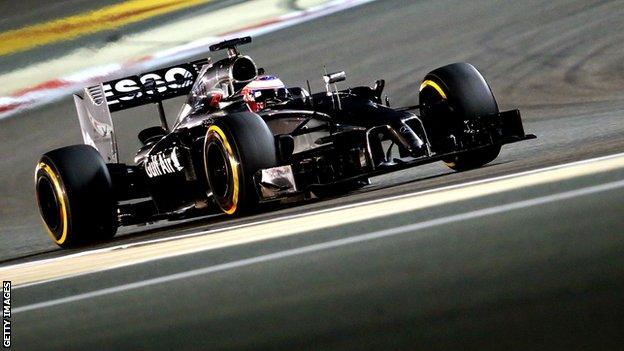 Mercedes can be caught in 2014 despite their huge pace advantage at the start of the season, McLaren racing director Eric Boullier says.
Lewis Hamilton and Nico Rosberg have helped Mercedes dominate in Australia, Malaysia and Bahrain.
Asked if it was realistic to suggest Mercedes could be caught, Boullier said: "It is. It's true the gap is huge now but a one-second gap is catchable.
"I know a lot of areas where we can work and improve."
McLaren are among a closely-packed bunch of teams vying to be best of the rest behind Mercedes, also including Force India, Red Bull, Ferrari and Williams.
McLaren are third in the constructors' championship after the first three races, one point behind Force India, despite both cars retiring from the Bahrain Grand Prix on Sunday.
Boullier said he believed Button could have beaten Force India's Sergio Perez to the final podium position in Bahrain had he not retired with a gearbox failure with 11 laps to go while he was running fifth, close behind the Mexican and his team-mate Nico Hulkenberg.
Button used that as evidence to claim that McLaren now had the second fastest race car in F1 and Boullier agrees.
"If you look at the performance from Jenson, we were just about to finish potentially ahead of the Force Indias, so I agree with his analysis we could be the best of the rest after Mercedes," Boullier said.
"But this is very tight for everybody. We are aggressively developing now to make sure we can catch up with them.
"I don't know if we will be catching them by European races but definitely we try to close the gap as soon as possible."
The next race is the Chinese Grand Prix on 20 April, before the first European race in Spain on 11 May.
McLaren are one of four teams with a Mercedes engine, alongside the Mercedes works team, Williams and Force India.
McLaren say they have made a big step forward this season after their uncompetitive 2013 season, when they failed to score a podium finish for the first time since 1980.
"Last year was a bit of a trauma," Boullier said. "Everyone is more than eager to get back to where we should be, but we have to do that not in a rush, not in a chaotic mode. But more in a rational mode."
New rules this season have seen the introduction of all-new turbo hybrid engines, which have made engines a performance differentiator for the first time since 2005.
The Mercedes engine has a significant power advantage over both the Ferrari and the Renault power-unit used by Red Bull, which has helped Williams and Force India compete with traditional front-runners Ferrari and Red Bull.