Lewis Hamilton & Nico Rosberg: Mercedes may rethink team orders

By Andrew Benson
Chief F1 writer
Last updated on .From the section Formula 1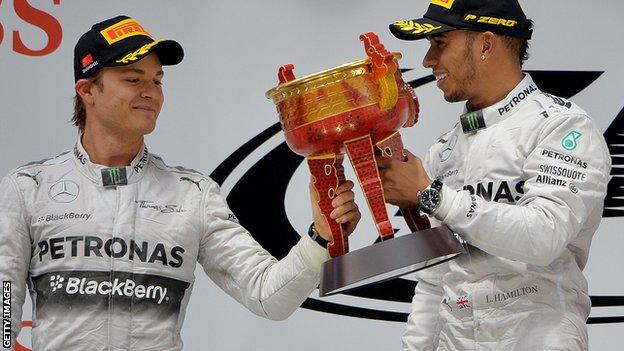 Mercedes say they may be forced to rethink their policy of letting Lewis Hamilton and Nico Rosberg race freely.
The team's current approach led to a thrilling duel in the Bahrain Grand Prix, when Hamilton won a race-long battle with his team-mate.
But team boss Toto Wolff says they may need to adapt if their rivals catch up.
"There might be situations where you can't lose lots of time in battle if you have your enemy right up your back," he said.
"Bahrain was a very particular situation because our package worked very well there and we had quite a competitive advantage, so it's easier to take a decision for the sake of racing because you know you have quite a margin to the guy in third place.
"The narrower that margin gets, the more you have to look out.
"Our rule is that the competition is enemy number one, not your team-mate, so there might be situations in the race where you have to consider that, but we will see what happens."
Mercedes have been in dominant form in the first four races. Hamilton has recorded three wins and three pole positions, while Rosberg has one win and one pole position.
The German leads the championship by four points heading into the Spanish Grand Prix on 11 May, because Hamilton retired from the season-opening Australian Grand Prix, which Rosberg won.
Rosberg has finished second to Hamilton in the three subsequent races.
The Mercedes has an advantage of about a second a lap over the rest of the field, a large part of which is due to the engine's significant power dominance over rival manufacturers Ferrari and Renault.
But Hamilton believes the Red Bull chassis is every bit as good as the Mercedes one and pointed to Ferrari driver Fernando Alonso's third place in China as evidence that rivals could put them under threat.
He also thinks Renault, engine supplier to Red Bull, will also improve for the next race.
"We cannot stand still," said Hamilton.
Despite taking three wins in a row since Australia, Hamilton said he expected Rosberg to bounce back.
Hamilton said: "I've still got a huge battle on my hands, making sure I'm on top of all the data and all the different settings and trying to do a better job.
"Nico is still leading the championship and will be massively quick at every race we go to. You cannot predict what is going to happen."
Wolff expects the advantage to ebb and flow between the two drivers as the season progresses.
"It will be a constant battle through the season," he said.