Ferrari: Ross Brawn visited ex-team's Maranello base on holiday

By Andrew Benson
Chief F1 writer
Last updated on .From the section Formula 1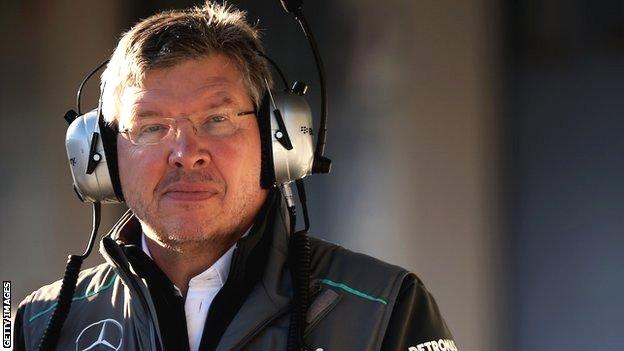 Ross Brawn has played down the significance of a visit to the Ferrari factory in Maranello on Monday.
The trip has led to speculation that he could return to Ferrari, where he was technical director in the team's dominant period in the early 2000s.
Brawn, 59, told BBC Sport he was there "with a group of friends as part of a tour of Italy - no more than that!"
He left his role as Mercedes team principal in December and is taking time off while deciding on his future.
A Ferrari spokesman also said Brawn's visit was "simply an Italian fantasy tour with friends scheduled for some time".
Brawn said the group tried out two Ferrari road cars, including the new LaFerrari hypercar, at Ferrari's Fiorano test track.
He said his trip was focused on visiting some of the route used by the historic Mille Miglia race across Italy "and as many vineyards as possible".
Talking to Italy's Gazzetta Dello Sport newspaper, he added that his visit to Ferrari was "out in the open".
Ferrari are in a period of some turmoil after a disappointing start to the season following the introduction of new rules.
The car has been off the pace of the dominant Mercedes - the development of which was led by Brawn - and Stefano Domenicali resigned as team principal following a poor race in Bahrain last month, in which Fernando Alonso and Kimi Raikkonen finished ninth and 10th.
Domenicali has been replaced by Marco Mattiacci, the former head of Ferrari's North American road-car division who is a protege of the top management of parent company Fiat.
Alonso lies third in the drivers' championship behind Mercedes' Nico Rosberg and Lewis Hamilton after taking the team's first podium position of the season in the last race in China following improvements to the car.
And technical director James Allison insists Ferrari do still not know the true potential of their 2014 car, the F14 T.
"We are learning how to get performance out of this new set of regulations and hopefully to make this car more competitive," Allison said.
"The key to a successful season is to keep improving your car at every race.
"If we can do that, bringing a meaningful amount of performance to every one of those races, we will keep seeing steps forward. And that will define what is the true F14 T, not just one single race."
Raikkonen has been struggling to adapt to the car and off Alonso's pace so far this season, but Allison said he expected to see some improvement from the Finn soon.
"With Fernando we've seen an extraordinary level of performance, scavenging every possible point at every possible opportunity," Allison said.
"Kimi is working extremely well with the team, collaborating with the engineers, helping us to drive this car forwards. He has class written all over him and, in a very short space of time, I'm sure we will also see the results of that on the track."