Ferrari's Luca Di Montezemolo criticised by Fiat boss Marchionne

By Andrew Benson
Chief F1 writer at Monza
Last updated on .From the section Formula 1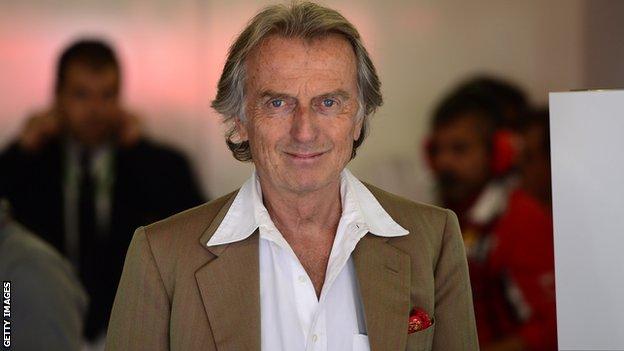 Ferrari president Luca Di Montezemolo has been criticised by the chief executive officer of parent company Fiat, Sergio Marchionne.
Di Montezemolo said at the Italian Grand Prix that reports he was to step down later this year were premature.
The 67-year-old said he had a contract for three years and that he would be the one to say when he is leaving.
But Marchionne said: "We are good friends but his statements, these are things I wouldn't have said myself."
Marchionne praised Di Montezemolo's achievements as president since 1991 in turning Ferrari around to its current successful financial performance.
But he said the F1 team's current lack of performance was unacceptable.
Ferrari have not won a drivers' or constructors' title since 2008, despite having Fernando Alonso, widely regarded as the best driver, since 2010.
This year, Ferrari are in the midst of their least competitive season for 20 years and Marchionne seemed to strongly hint that he felt Di Montezemolo's time at the helm was drawing to an end.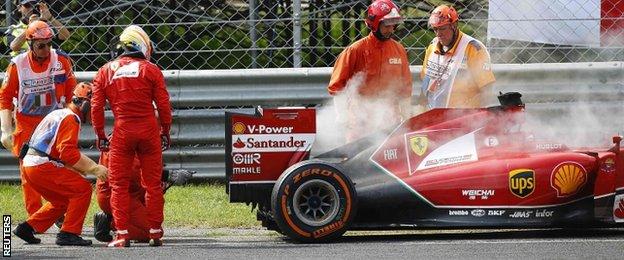 "I consider myself essential, of course," said Marchionne, "But I also know very well that I am at the service of this company. So to create positions, illusions that one can operate outside the rules, is talking rubbish.
"It's the same for him as it is for me; we serve the company. When the company has a change of plan, or if there is no longer a convergence of ideas, things change."
Ferrari's disappointing 2014

Venue

Race result

Venue

Race result

Australian

(16 Mar)

Alonso 4, Raikkonen 7

Malaysian

(30 Mar)

Alonso 6, Raikkonen 12

Bahrain(6 Apr)
Alonso 9, Raikkonen 10
Chinese(20 Apr)
Alonso 3, Raikkonen 11

Spanish

(11 May)

Alonso 6, Raikkonen 7

Monaco

(25 May)

Alonso 4, Raikkonen 12

Canadian(8 Jun)
Alonso 6, Raikkonen 10
Austrian(22 Jun)
Alonso 5, Raikkonen 10

British

(6 Jul)

Alonso 6, Raikkonen DNF

German

(20 Jul)

Alonso 5, Raikkonen 11

Hungarian(27 Jul)
Alonso 2, Raikkonen 6
Belgian(24 Aug)
Alonso 7, Raikkonen 4

Italian

(7 Sep)

Alonso DNF, Raikkonen 9
The team had their worst race of the season in Monza on Sunday, with Kimi Raikkonen finishing ninth and Fernando Alonso retiring with an engine problem after spending the first half of the race in seventh place.
Alonso said after the race that there was no immediate prospect of an upturn in form.
Marchionne said: "The heart of Ferrari is winning in F1. I don't want to see our drivers in 7th and 12th place.
"To see the Reds in this state, having the best drivers, exceptional facilities, engineers who are really good, to see all that and then to consider that we have not won since 2008…
"The important thing for Ferrari is not just the financial results, but also it is winning and we have been struggling for six years."