Toto Wolff: Mercedes boss believes F1 radio ban as 'unclear'

By Andrew Benson
Chief F1 writer at Monza
Last updated on .From the section Formula 1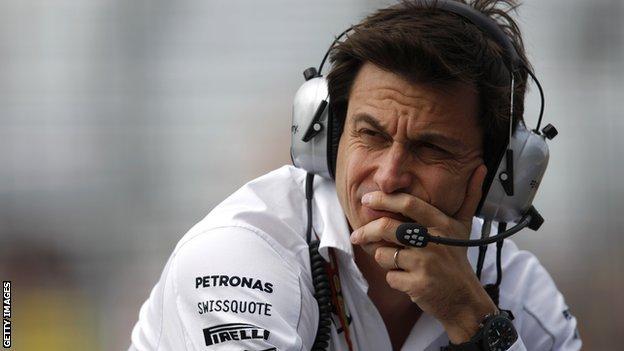 Mercedes boss Toto Wolff says a ban on giving advice to drivers over the radio is unclear and "controversial".
Wolff said "further clarification" was needed on enforcing a rule that drivers must "drive alone and unaided".
He said: "There will inevitably be some controversy so it will need further clarification as to how much essential on-track procedures will be affected."
Teams are concerned the ruling will have consequences that governing body the FIA has not considered.
"It will require a significant effort from the teams to understand how best we can work around it," Wolff said, adding that preparations for the start of a race on the formation lap were a particular issue.
The FIA has given some examples of what it considers legal and illegal under the new approach.
Teams would still be allowed to tell their drivers when to come in for a pit stop, information about other cars on track, or team orders.
But they would be forbidden to give them any advice about how to gain time by altering their approach to certain corners, warn them about fuel consumption or brake wear, or give instructions about car or engine settings.
Race director Charlie Whiting plans to discuss the ruling in detail with the teams in the days leading up to the next race in Singapore on 19-21 September to ensure the new directive is clear.
The clampdown comes in the wake of concerns that the radio messages give the wrong impression of drivers being akin to puppets simply doing what they are told by engineers poring over computer read-outs in the pits.