Chinese Grand Prix: Alonso happy with McLaren progress
Last updated on .From the section Formula 1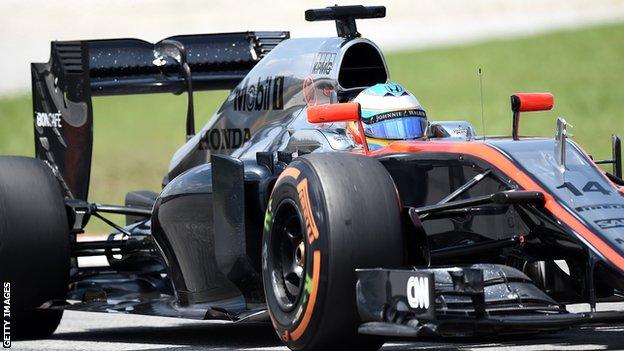 McLaren driver Fernando Alonso says he is happy with the team's progress after his difficult start to the campaign.
Alonso, 33, retired from the subsequent Malaysian GP but says he is looking forward to Sunday's race in China.
"That sort of progress really gives the whole team belief and confidence in the path we're taking," said Alonso.
"The steps we took between Australia and Malaysia were extremely impressive."
British driver Jenson Button also retired in Sepang after finishing 11th in Australia but shares his team-mate's positivity.
Button, 35, said: "There is definitely progress being made. I hope we can build upon our pace and performance in Malaysia."
McLaren racing director Eric Boullier warned that the team's improvements might not be evident in Shanghai or in Bahrain on 19 April.
He said: "We are fully aware that the next two races probably won't show quite the same rate of improvement as we witnessed at Sepang.
"That's a natural consequence of the fact that the performance gains we're finding aren't linear in fashion - some will be for performance, some for efficiency, and others for reliability."