Formula 1: Years before McLaren competitive again - Zak Brown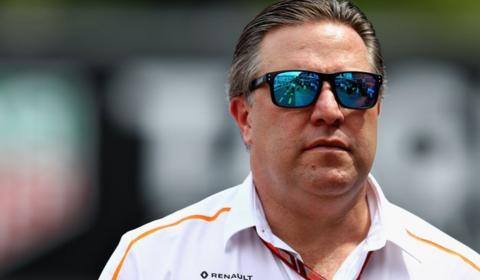 McLaren boss Zak Brown says it will take years before the team are competitive again in Formula 1.
McLaren split with racing director Eric Boullier this week and announced a new race-team structure, changes Brown says are the start of a rebuilding process.
"This is going to take some time to fix, so I think we are years away. I don't know whether that is two or 10 or somewhere in between," he said.
"We have to be very realistic and honest with ourselves."
McLaren started this year with ambitions of competing for podiums after switching from Honda engines to Renault, which Red Bull also use.
Instead, they have found their car to be nearly two seconds off the pace, and lead driver Fernando Alonso has only managed to get into the top 10 in qualifying twice in nine races so far.
Brown revealed that the team have made a backwards step with this year's car compared to last year's in terms of aerodynamics, one of the primary factors in F1 car performance.
"We don't have the same level of downforce this year as last year," he said.
"We have identified an area in which our car this year is weaker than last year. Did we have the best chassis last year? No, definitely not. Did we have a better chassis? It would be hard to say definitively yes or no but we know we have less downforce than last year."
McLaren's restructure of their racing team has seen Andrea Stella, the former Ferrari engineer who joined McLaren with Alonso in 2015, promoted to performance director, with responsibility for the race team at grands prix.
Former Indycar champion Gil De Ferran has been named sporting director to work with Stella at race weekends.
More changes on the way
Brown indicated that the design department was also in the process of being restructured.
Chief technical officer Tim Goss was removed from post at the end of April, leaving in place the other two members of the technical leadership, aerodynamics head Peter Prodromou and engineering director Matt Morris.
But Brown said he was "not done" with making changes at McLaren after six years in the wilderness.
"We are in the starting process of our recovery plan, and we plan to enhance our technical team," Brown said, in comments that will be interpreted as confirmation McLaren are looking for a new technical director to lead the design of their car.
And he cautioned about expecting too much from the team at their home race in Britain this weekend.
Alonso finished eighth in Austria last weekend having qualified 14th.
"We had a good finish in the last race relative to where we started but we were uncompetitive," he said, "and not much has changed since last race so I think everyone needs to not starting having too-high expectations, ourselves included."
What about Alonso?
Alonso has been consulted on the changes and Brown said he hoped he would stay with the team next year.
"He really likes the McLaren environment," Brown said. "He obviously believes in us because he had the ability to leave this year and he chose to stay because he believes in McLaren and I believe he wants to be here long term."
Brown said McLaren wanted to help Alonso complete motorsport's 'triple crown' by winning the Indianapolis 500 to add to his victories in the Monaco Grand Prix and Le Mans 24 Hours.
Alonso has a choice between going Indycar racing full-time next year or staying in F1 and taking the Monaco Grand Prix off to compete in the Indy 500, as he did in 2017.