Ferrari can do better, says Fernando Alonso
By Sarah Holt
BBC Sport in Melbourne
Last updated on .From the section Formula 1
Fernando Alonso said Ferrari did not realise their true potential following a disappointing performance in Australian Grand Prix qualifying.
Ferrari had looked competitive in pre-season testing but the Spaniard lines up fifth, 1.4 seconds off pole position man Sebastian Vettel of Red Bull.
"Position we are happy, distance from pole we are not happy," Alonso stated.
"Overall grip was where we lacked. I suspect this was not normal pace from us and we will get better and better."
Alonso said he had taken a deliberately cautious approach to qualifying because the team knew they could not challenge for pole position.
"We were not super-competitive today [compared to] practice [on Friday]," the 30-year-old added.
"In qualifying we took a very conservative approach.
"We knew if we took a big risk we may be fourth, if we are safe, we go fifth or sixth, so there was no need to take risks in the first qualifying of the season.
"We were not so bad yesterday, so we missed something today.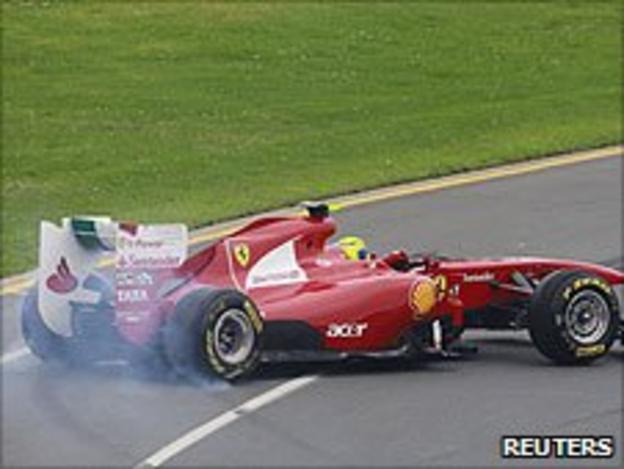 "Also the distance to Sauber, Toro Rosso, Renault - in winter testing we were one second ahead of them and here it is only 0.2 to 0.3secs. So we missed something in our car."
He said Ferrari had struggled to get their tyres up to working temperature in the cool conditions, but "obviously that was not the only problem".
Asked how shocked he was by the gap to Red Bull, he said: "Nothing really. I expect the gap to Red Bull to get closer tomorrow and also with our 100% in potential much closer in Malaysia in 15 days' time.
"It's only the first qualifying but we know that Red Bull did a good job today and the times were very quick."
Felipe Massa in the second Ferrari was 0.7secs behind his team-mate and his hopes were not helped by a spin immediately after leaving the pits in the final qualifying session.
"The tyres were a bit cold and I spun," the Brazilian said. "I didn't damage the tyres but it was not great for warm-up.
"We were struggling to get the tyre temperature straight away, which was not the case with the other tracks."