F1 legend Jackie Stewart says Paul di Resta needs time
Last updated on .From the section Formula 1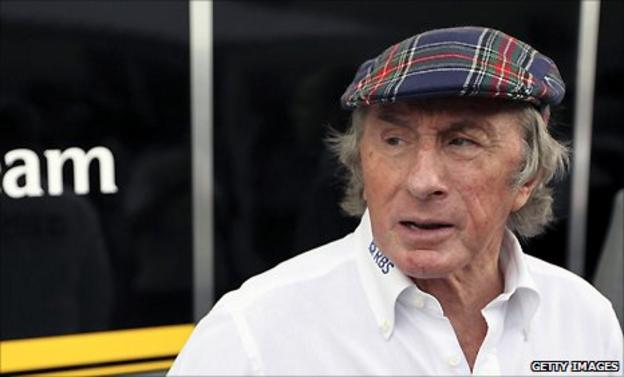 Formula One legend Sir Jackie Stewart has called for Scottish driver Paul di Resta to be given time to adjust to the sport.
The Force India driver races for the first time on Sunday in the Australian Grand Prix.
But Sir Jackie told BBC Scotland's Sport Nation that he must be given time to settle before he can challenge.
"We've got to give him time - don't ask too much too soon, because it's a very tough field," he said.
"It's the best in the world, there's only 24 drivers in the world in Formula One racing out of the hundreds of millions who drive cars round the world so give him time."
However, Sir Jackie said he had been impressed by di Resta's performance in qualifying in Melbourne.
"He's faster than a well-established teammate that he has, Adrian Sutil, who had an incident on the start/finish line as he completed his lap, made a mistake and went off.
"I don't think it was fair to expect he could get into the top ten at all.
"We've got to give him time. Any young driver coming in to a field with five world champions in it as well as a lot of very experienced racing drivers in it - he's ahead of Rubens Barrichello, probably the most experienced driver on the grid - no, he's done extremely well to be where he is."
The three-time World Drivers champion also backed di Resta to eventually move to a higher-profile F1 team.
"Every new driver has to come in at a lower level, very few come in with a top team. The only person who's done that in my experience, and certainly for a very long time, was Lewis Hamilton who came in to McLaren," said Sir Jackie.
"That doesn't happen - Alonso went in with Minardi right at the back of the field, so also did Mark Webber for example and actually Vettl, the world champion today came in with a lesser team as well.
"His history in racing 's been very impressive, he's got a great CV. He won the Formula 3 XChampionnship of Europe, beating Vettl for example, he won the German Touring Car Championship beating well-established touring car drivers.
"What he has to do is demonstrate in probably the next 24 months that he justifies let's say, a higher level team on the starting grid.
"Because Red Bull are there right up at the top with Vettl fastest, Lewis Hamilton second-fastest and Mark Webber third - that's the type of team, or getting into Ferrari, that type of team is where Paul di Resta should be looking at."