Jenson Button expects three-way fight for world title
Last updated on .From the section Formula 1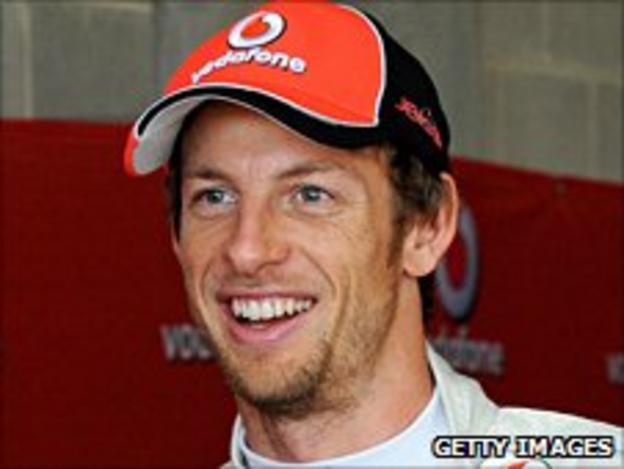 Jenson Button expects a close three-way title fight despite Red Bull's dominant win at Sunday's 2011 season opener.
Button said: "Clearly, the Red Bulls are quick. But we're a lot closer on race pace than this time last year.
"I think Ferrari will be very strong too. It's looking like a continuation of the battle we saw last year."
Button, who finished sixth in Melbourne following a drive-through penalty, stated that he did not think Red Bull's advantage was as big as it had looked at Albert Park.
Vettel pulled out a 2.5-second lead on the first lap and extended his advantage to more than three seconds by the end of lap two.
But, after that, Hamilton was able to keep pace with the world champion until his car suffered damage and he had to slow down to nurse it to the flag.
McLaren's pace was the surprise of the weekend after the team had struggled for both speed and reliability in pre-season testing.
The problems were caused by a complicated exhaust system, which was taken off their car and replaced with a more conventional system for Australia.
Harnessing exhaust gases to create more downforce has become one of the key technologies for F1 teams in the last 12 months.
"We're very definitely in the hunt. I think there's a massive amount of untapped potential in our car," added Button.
"Sunday was the first time we'd even completed a race distance with the car, which tells you how much there is to get out of the package.
"And I think Ferrari will be very strong too. They started the weekend strongly but it sounds like they went a little backwards on Saturday and into Sunday. But their race pace was good, so I think they'll only be stronger at the next two races.
"All in all, it's looking like a continuation of the battle between the three top teams that we saw last year, which will be great for the sport and the fans."
Red Bull did not use the Kers power-boost system at the weekend but have said they plan to use it at the next race in Malaysia on 10 April.
Although adding Kers in theory improves lap times by about 0.3secs, Button believes it is a more complicated situation than that.
"I know you can say that Red Bull weren't using Kers hybrid, which puts a couple of tenths in your pocket, but I don't think it's as clear-cut as you might have believed on Saturday evening," he said.
Kers gives cars an 80bhp boost for up to seven seconds a lap. But it also brings disadvantages - it increases rear tyre wear, a problem Red Bull were suffering even without it in Australia, and fitting it in the car can cause problems.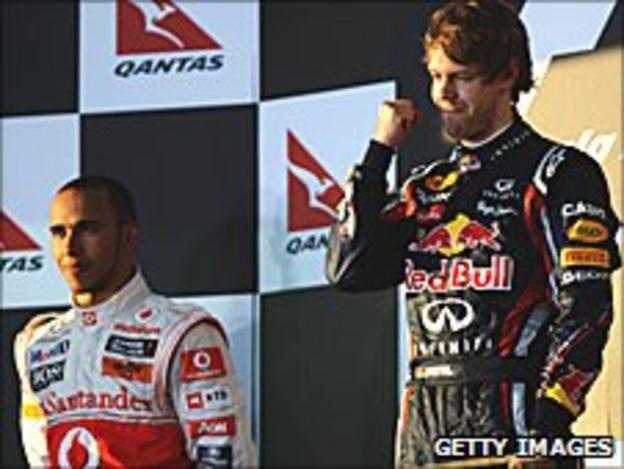 Red Bull have suffered difficulties with their Kers all winter - it is very tightly packaged and the team have been struggling to manage the heat the batteries create.
This was one of the reasons why they did not run it in Australia. The Malaysian race is always one of the toughest on cars and drivers because of the tropical heat and humidity.
McLaren expected a performance upgrade of about a second from their revised car in Australia but Button said after the race that he felt it had actually been double that.
"We brought along the new exhausts, obviously, which are a lot simpler than the original exhausts we were trying during testing, and we also had a revised floor and a front wing, which helps balance up all the aero elements across the flow of the whole car," stated Button.
"So, individually, those elements bring a certain amount of performance, which we reckoned to be worth about one second. But, when you're in the car and you're able to 'switch on' all that performance, it's suddenly worth a lot more.
"The additional downforce means you can brake later, corner faster and get on the power earlier. It also gives you that extra confidence to push the car a little bit more.
"Downforce is the magic ingredient, and the guys back at the factory, and the guys working at the track, really delivered it for us this weekend."
Hamilton finished second in Australia and he too is confident about what lies ahead for McLaren.
"Before the race, I'd said that it was important to get some points on the board early in the season," said Hamilton.
"I think it's already pretty clear that it's going to be a long and tough championship, so you can't afford to drop points.
"Every race is going to be important, so while I'd always prefer to win, Sunday was pretty much a 'perfect' result for us - perfect in the sense that we scored good points, and we feel we're going to be stronger in the next races."