Christian Horner defends the legality of Red Bull's car
Last updated on .From the section Formula 1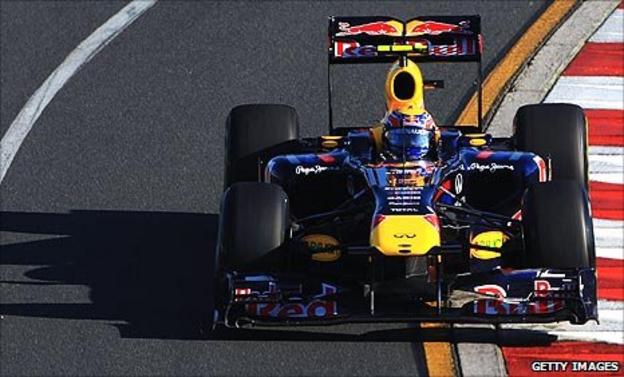 Red Bull team boss Christian Horner has defended the absolute legality of the cars with which his team has made such an impressive start to the season.
The 2010 world champions were accused of potential rule breaking last season over their front wing, which was rigorously investigated - and approved.
Horner was asked if he was frustrated about fresh questioning following Sebastian Vettel's win in Australia.
"We take it is a compliment to be honest with you," he said.
Vettel's vast superiority over the rest of the field at Melbourne's Albert Park in the season-opening race was underlined by his performance in qualifying, when the German finished 0.8 seconds clear of McLaren's Lewis Hamilton.
The F1 rules dictate that front wings must be a minimum height above the bottom of the car.
This height is measured in the pits, as well as the rigidity of the wing under loads which are designed to replicate the forces put on the car by aerodynamics.
Rivals believe Red Bull have found a clever way to ensure their wing passes all tests but still flexes and runs lower to the ground at speed, enhancing aerodynamic downforce and therefore speed when cornering.
Potentially, this could be worth more than half a second per lap.
Motor sport's world governing body, the FIA, stiffened its regulations last season over front wings, but the Red Bull cars passed all the FIA tests - and have continued to do so this season.
Questioned on the issue once again ahead of Sunday's Malaysian Grand Prix, Horner responded with a somewhat frustrated explanation.
"Shall I explain in very basic words how it works?" he asked.
"McLaren have developed a car that has a very low rear-ride height, and therefore a low front wing for them doesn't work.
"We run quite a high rake angle in our car. So inevitably when the rear of the car is higher, the front of the car is going to be lower to the ground.
"It is obvious science, and therefore our wing complies fully with the regulations. It will look lower to the ground because the rake in the car is higher, but it is simple mathematics."
"I think our front wing has been tested more than any other in the pit lane, and it complies with the regulations, which is what we have to do. We don't have to pass a McLaren test, we have to pass an FIA one, and it complies fully with that.
"McLaren have developed a car that is effectively a different philosophy to ours.
"So the benefit we see from the front wing is different to the one they would see, and that is the basis behind it fundamentally."
McLaren's Jenson Button refered to the matter on Thursday, but made no observations.
"I know a few people that I have spoken to say it flexes more than what they expect is correct, but I haven't really spent much time looking at it," he said.