Ferrari can be F1 champions this year - Fernando Alonso
By Sarah Holt & Lee McKenzie
BBC Sport at Sepang
Last updated on .From the section Formula 1
Ferrari's Fernando Alonso says he is confident he can fight for the world drivers' championship despite a disappointing start to the 2011 season.
He was fourth in the opening race in Australia two weeks ago, when he was a long way off the pace-setting Red Bull.
"We think we can do good things with this car. We saw in Australia it was not enough to fight for victory. We need to work," the Spaniard said.
"But at the moment the championship is very long and we remain comfortable."
The 29-year-old had a frustrating time in Friday practice at the Malaysian Grand Prix, ending the day ninth fastest, nearly two seconds off pace-setter Mark Webber of Red Bull, and he admitted afterwards he was expecting a "difficult weekend".
But he told BBC Sport he was confident he would be in the title fight as the season develops.
"I think so, that's our aim and our target," Alonso added.
"In Australia we were not as quick as we expected - but there are 18 races ahead of us.
"We are Ferrari. People expect a lot of us, it's good motivation but also extra pressure.
"When you do third or fourth it seems a disaster but I don't agree too much.
"It is not a bad result after what we saw in Australia. We need to be calm and do our job - we are strong enough to fight for the championship.
"Our competitors are strong - we respect them a lot - fighting with McLaren and Red Bull is not easy at all but that is also a nice challenge for everyone here."
Alonso said that while Ferrari's lack of pace in Melbourne had caught them by surprise, he was reserving judgment on whether it was an anomaly or the start of a trend.
"We were expecting a better result [in Australia]," he stated.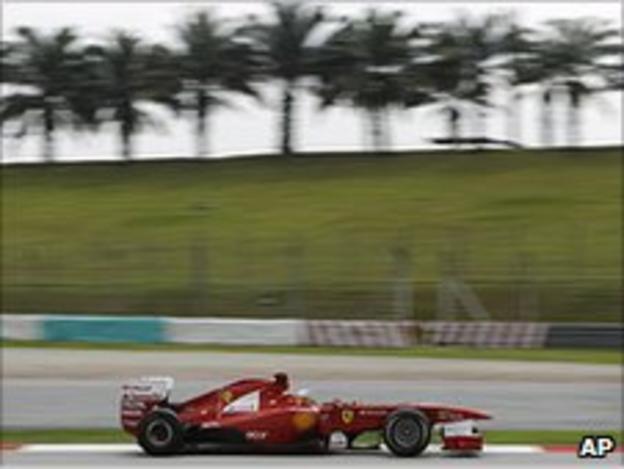 "We were hoping to fight for pole position and victory but we were not anywhere near to fight with Red Bull.
"We were a little bit surprised by our pace in Australia we have to confirm this in the next two or three races, if we really are that behind.
"In winter testing we were much closer to Red Bull so hopefully Australia was one strange race.
"But at the moment we don't fear anyone, we respect everyone but we think that if we do things right and if we do 100% we can be there.
"If we make a mistake we know how strong our competitors are. At the moment Red Bull are dominant as they were in 2010 - Red Bull are still the main challenge."
Alonso came close to winning the title in 2010, only to miss out at the final race when the team made a mistake in calling him in for an early pit stop, leaving him stranded down the field and at the mercy of Vettel.
When asked how he reflected on that disappointment, he replied: "I didn't give it too much time to be honest.
"It was a disappointing race for us in Abu Dhabi, it was very sad, we were close to the title but once the race was finished it's time to think about the next challenge and that was the 2011 championship."
And the Ferrari driver refused to blame the strategy call for missing out on the title.
"No, it was not one incident it was the whole weekend was not good enough and we did not have the pace to be as quick as Red Bull or to fight for victory," he commented.
"McLaren were quicker than us, the start was not quick enough, there was a safety car.
"There were many factors that surprised us but also I think that Abu Dhabi was the last race of 19 but we didn't lose the championship in Abu Dhabi we lost it also in Silverstone when we didn't score any points, it was a little bit of everything.
"We have reinforced some areas of the team where we discovered we were weak compared to our competitors - trackside we had to make some improvements and strategy wise we were also down.
"The team is stronger this year - if it is enough to win titles we will see in November but I feel much happier and confident than last year."
The interview with Fernando Alonso can be seen in BBC One's coverage of the Malaysian Grand Prix, starting at 0800 BST on Sunday 10 April.