German lawyers confirm questioning Bernie Ecclestone
By Dan Roan
BBC Sports News Correspondent
Last updated on .From the section Formula 1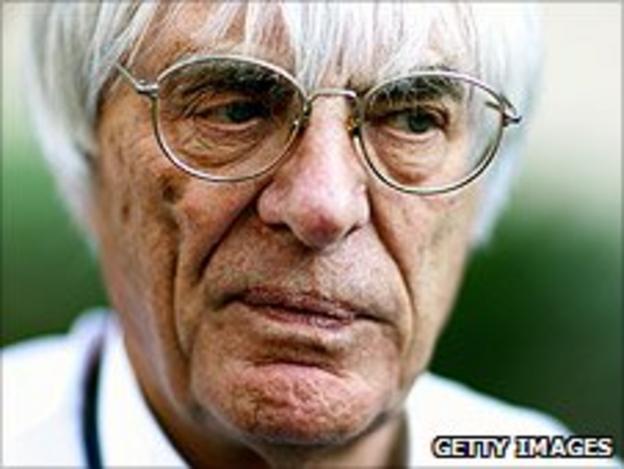 German state prosecutors have confirmed to BBC Sport that they have questioned Formula 1 supremo Bernie Ecclestone as part of a probe into an alleged multi-million pound bribery scandal.
The authorities are trying to establish who paid around $50m to Gerhard Gribkowsky, a former banker who oversaw F1's sale to private equity firm CVC in 2006.
A senior source at the State Prosecution Office in Munich told the BBC that Ecclestone had been interviewed by Public Prosecutor Hildegard Baumler-Hosl earlier this month.
"He is co-operating with us," said the source. "He came to Munich early in April".
The Prosecution Office refused to comment on speculation that the inquiry may be widened and that board members of F1's parent company, the Jersey-based Delta Topco (majority-owned by CVC), could also be questioned, merely saying: "We have interviewed many, many people and will speak to more."
Ecclestone released a statement on Friday, saying; "I have been co-operating with the State Prosecution Office's investigation of the affairs of Dr Gribkowsky since the outset.
"When I was informed that there was a first suspicion in relation to my perceived involvement in the matter I went to see the Senior State Prosecutor and her team in Munich earlier this month to clear up any allegations against me.
"I will continue to give the State Prosecution Office my full co-operation in whatever capacity it may ask and I am confident that when the full facts have been established I will be exonerated of blame for any wrongdoing."
Gribkowsky, a former chief risk officer for state-owned BayernLB, was arrested in January and remains in a Munich jail awaiting a decision by the prosecutor about whether to press charges.
BayernLB had a stake in Formula One up to 2006 along with JP Morgan, Lehman Brothers and Ecclestone's family trust.
The banks had a 75% stake in the owner of F1's commercial rights, Slec after the collapse of media group Kirch, which had borrowed some $1.6 billion from them.
Slec was sold to the current Formula One rights holders, private equity firm CVC, in 2006 with Ecclestone continuing to run the business.
The sport's owners have just completed their own inquiry into the circumstances surrounding F1's sale five years ago, BBC Sport understands.