Ferrari's Felipe Massa turns around his season
By Mark Hughes
BBC F1 commentary box producer
Last updated on .From the section Formula 1
Felipe Massa's strong performance at the Chinese Grand Prix could be the breakthrough that will rescue his Formula 1 career.
He was a little disappointed at how his race fell away in the late stages at Shanghai.
Having spent much of the distance within a couple of seconds of Sebastian Vettel's Red Bull, the Ferrari's rear tyres finally surrendered and unable to hold off a host of three-stopping cars on fresher rubber.
It left him crossing the line in sixth place.
But disappointment in a race in which he finished 15 seconds clear of team-mate Fernando Alonso demonstrates a real turnaround in both his form and mentality.
It built upon a breakthrough that had actually been made a week earlier in Malaysia but was disguised there by a problem pit stop that lost him vital places.
Otherwise, he might have beaten Alonso there too.
But do not get the idea that this is anything other than Alonso's team.
The double world champion remains the absolute focus of Ferrari, as emphasised by the words of team boss Stefano Domenicali when asked if he had any observations on Alonso's somewhat low-key China race.
"I do not want to get into anything that might be interpreted as negative about Fernando. He is a fantastic driver and the biggest asset of this team," he said.
Massa and his engineer Rob Smedley fully understand this reality.
The key to rescuing a reputation that is now far below that of 2008 - when Massa came close to delivering the team a world title - will be in working within that understanding.
There will be zero psychological support from the team for any Massa attempt at getting equal status with Alonso.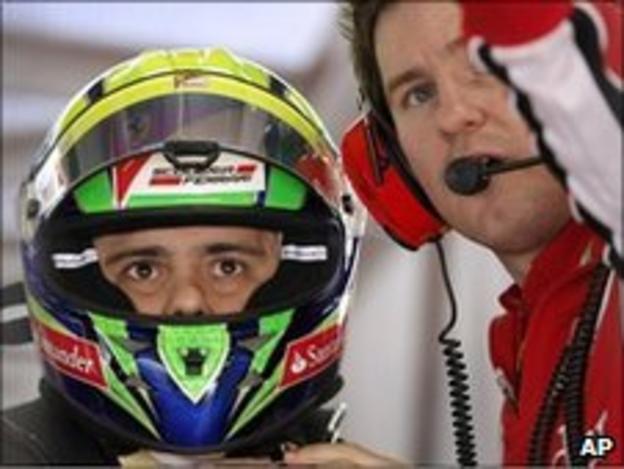 Within the team, Massa's support comes only from Smedley and the two are operating as their own little unit within a big picture of Alonso-centricity.
Even when he was winning races and going bat to bat with Kimi Raikkonen, Massa was never perceived within Ferrari as a driver who might lead the team. The personal dynamics are simply wrong for that.
As a straightforward and relatively simple soul, it is not within him to demand anything - and nor would the team respond well if he tried.
He is forever cast there as the grateful recipient of Ferrari's backing in his junior career - and the fact that Ferrari stuck by him after his serious accident in 2009 only reinforces that dynamic.
As Massa returned from that accident last year, it was surely a hard thing to take to see the team responding to the newly recruited Alonso in a way it never had - never could - with him.
The former champion took command and backed that up on track, his performances usually of a different order to Massa's.
It seemed like a vicious downwards spiral; the more Massa was treated as a number two, the more he performed like one, the more he seemed to believe it himself.
In Australia this year, nothing much had apparently changed.
The Ferrari was struggling to get heat into its tyres. Alonso coped with this better than Massa and qualified 0.7 seconds faster - as he had at the same venue 12 months earlier.
Massa made a great start - as he habitually does - but he had no race pace and Alonso had plenty.
Smedley and Massa are as close as brothers and are able to be just as frank with each other. They could not afford to have another season like 2010 and Australia 2011 had looked worryingly similar.
There was no magic wand that either could wave - the Ferrari was off the ultimate pace - but Smedley was adamant they needed to change their approach to at least access what was there.
Massa was instructed to give a long, hard think to his set-up problems and to give his engineer more to work on.
A few days later Massa reported back that he felt his problems stemmed from the front end of the car.
The understeer was not only losing him time but was, he felt, actually hurting his rear tyre wear, as applying the power with the understeer lock applied was inducing oversteer.
Smedley and Massa went into the Sepang weekend with the focus of reducing the car's understeer, even to the extent of a radical set-up. It worked.
Massa was close to Alonso's pace all weekend, he again beat him off the grid. Now the circle of confidence began to change direction and Massa's whole demeanour changed.
He no longer took a mental battering when he saw a good Alonso lap but reckoned he could do much the same - then proceeded to do so.
In China his superior start technique - and perhaps a feeling of less to lose - got him ahead of his team-mate for the third straight race, and he stayed there.
Alonso was left having to fend off Michael Schumacher for much of his second stint, this not only costing him time but tyre performance too.
Although the raw pace of the two Ferrari drivers was roughly similar, on this occasion the snowballing deficit you get into when you are left vulnerable to fighting slower cars rather than pushing forwards was demonstrated by Alonso.
The disadvantage of losing out positionally at the start is exaggerated as the race goes on; only this time it was Alonso demonstrating rather than Massa.
None of this threatens to undermine Alonso's position within the team. He will remain at the centre of Ferrari's universe.
But if Massa can just maintain the breakthrough of the last two events and remain positive, then at least he has a fighting chance of rescuing his reputation - and perhaps of being in demand in the driver market.
Mark Hughes has been an F1 journalist for 10 years and is an award-winning author of several books