Sam Michael resigns as Williams F1 technical chief
Last updated on .From the section Formula 1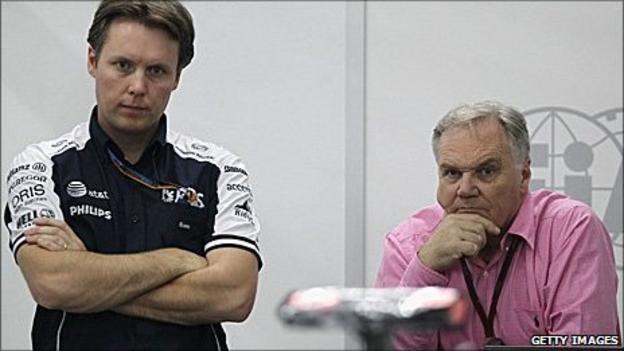 Williams technical director Sam Michael has quit his role as Mike Coughlan - the man at the heart of 2007's spy-gate scandal - returns as chief engineer.
Michael and chief aerodynamicist Jon Tomlinson, who also resigned, will leave at the end of 2011.
"Sam and Jon resigned to give the team the opportunity to get back to the front," said team boss Sir Frank Williams.
Patrick Head, team co-founder and engineering director, is set to retire.
Williams have already made a change to their technical department as the British team announced that Coughlan will return to F1 as their chief engineer in June.
Coughlan was dismissed by McLaren for his part in the spy row that emerged when McLaren were found to be in possession of a confidential 780-page technical document belonging to Ferrari.
The scandal rocked F1 and ended with McLaren fined £50m and stripped of all their points in the 2007 constructors' championship.
Coughlan was working for McLaren as senior engineer when he was found to be in possession of the documents belonging to Ferrari.
"I am grateful to Williams for giving me this opportunity," said Coughlan. "My experience in 2007 was life-changing.
He added: "I am looking forward to returning to a sport which I love and to joining a team that I have admired for many years.
"I will dedicate myself to the team and to ensuring that we return to competitiveness while respecting the ethical standards with which Williams has always been synonymous."
Team boss Williams commented: "Mike left F1 in 2007 because of conduct which he acknowledges was wrong and which he profoundly regrets.
"His two-year ban from the sport expired some time ago and Mike is now determined to prove himself again.
"Williams is delighted to be able to give him the opportunity to do this and we are very pleased to have one of the most talented and competitive engineers in the sport helping us to return to the front of the grid.
"This is the first step in rebuilding and strengthening our technical group. We will announce the next steps as they develop."
Williams, who made their F1 debut in 1978, have failed to translate their promising pre-season form into race performance.
Reliability problems, including transmission and hydraulic issues, meant neither Rubens Barrichello nor Pastor Maldonado finished the opening races in Australia and Malaysia.
Barrichello finished 13th at the last race in China but Maldonado was 18th and Heikki Kovalainen's Team Lotus finished ahead of a Williams for the first time.
Michael, as the head of the team's technical department, has been under pressure to reverse the team's fortunes but he and Tomlinson have made the decision to stand down at the end of the campaign.
"Both Sam and Jon are talented and driven people who have worked hard for Williams over 10 and five years, respectively," added Williams, who co-founded the team with Head.
"Nonetheless, they have recognised that the team's performance is not at the level that it needs to be and have resigned in order to give the team the opportunity to regroup and undertake the changes necessary to get back to the front of the grid.
"Both will continue to work in their present positions through until the end of the year to ensure that the team maintains focus and momentum during the 2011 season.
"We are very grateful to Sam and to Jon for their professional approach."
Michael joined Williams in 2001 and became technical director three years later as Head assumed the role of engineering director. Tomlinson joined the team's aerodynamic department four years ago.
On a day of annoucements, Williams chairman Adam Parr also revealed that Head planned to retire this year but said it was not connected to the technical reshuffle.
"Patrick has made it clear that he will be retiring this year, so at some point this year that will happen," Parr said.
"That's nothing to do with the restructuring, it's just the fact that he's turning 65 and had already signalled that it's time for him to move on to his next set of interests in life."
Head, who sold a significant proportion of his shares in the team earlier this year, had said at the time he still planned to remain involved in Williams
The shake-up of the technical department is the latest transition for Williams who floated a 24% stake in the team on the stock exchange in March.
Williams are one of the most successful teams in F1, winning nine constructor titles, but they have slipped from the pedestal they occupied when they dominated the sport for much of the 1980s and 1990s.
They have not won a championship since 1997 and last won a grand prix in 2004.
The team hope to recover some performance at this weekend's Turkish Grand Prix where they are expected to introduce a raft of updates including new front and rear wings and a modified floor.