Rupert Murdoch's News Corp and Exor reveal F1 plan
Last updated on .From the section Formula 1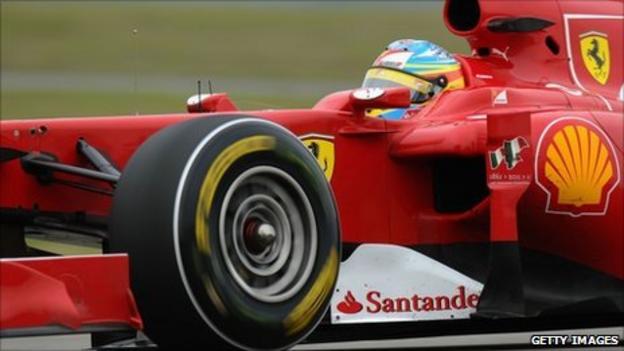 Rupert Murdoch's News Corporation and an Italian investment firm linked to Ferrari are working on a possible bid to take control of Formula 1.
"Exor and News Corp will approach minority partners and key stakeholders in the sport," a joint Exor and News Corp statement read.
"There can be no certainty that this will lead to an approach to F1's current owners."
F1's owner CVC Capital Partners insists the sport is not "for sale".
"CVC can confirm that it has recently received an approach from the Exor News Corporation consortium," said private equity firm CVC, which paid £1.8bn to buy F1 in 2006.
The company went on to reveal in a statement that Murdoch's son James had been the News Corp representative.
"James Murdoch has informed us that the approach is friendly, at a very preliminary stage, and that they acknowledge that Formula 1 is privately owned by CVC and not currently for sale.
"CVC recognises the quality of Exor and News Corporation as potential investors, but any investment in Formula 1 will require CVC's agreement and will need to demonstrate that it is in the interest of the sport and its stakeholders, taken as a whole."
Any takeover would involve changes to the Concorde Agreement, a commercial arrangement involving the racing teams, CVC and the sport's governing body, the FIA.
This agreement says that the sport should be shown on free-to-air television in major markets.
However, the agreement runs out at the end of 2012, and the signatories are in the process of negotiating a new one.
The BBC has the UK broadcasting rights to F1 until 2013.
Last month Bernie Ecclestone, who runs F1 on behalf of CVC, dismissed reports that News Corporation was in talks with Mexican billionaire Carlos Slim, who sponsors the Sauber team, to buy F1 as "rubbish".
And on Tuesday the 80-year-old Ecclestone questioned the likelihood of a News Corp bid succeeding.
"Personally, I know CVC don't want to sell, so it's going to be a bit difficult," said Ecclestone. "I can see CVC in for the long haul, absolutely, 100%.
"If somebody came along and offered them a lot more money than it's worth, they [CVC] would obviously say 'Sit down, let's have a chat'. But I get the distinct feeling that's not going to happen.
"I can't understand why a company as big as News Corp need to keep looking for partners. First it was Carlos Slim, and now we've a new one."
Exor is the holding company of the Agnelli family and has a controlling 30% stake in carn maker Fiat Group, which is the majority owner of F1 team Ferrari. Exor also holds a 60% stake in Serie A side Juventus.
News Corp, which owns 39% of broadcaster BSkyB and is trying to buy the rest of the company, could face regulatory hurdles if it took on broadcasting rights.
In 1998, News Corp tried to buy the Manchester United football team but was blocked by the Competition Commission because of Sky's dominance in broadcasting the sport.