Button on top in Turkey practice
Last updated on .From the section Formula 1
Jenson Button set the pace for McLaren in Turkey with team-mate Lewis Hamilton half a second back in third.
World champion Sebastian Vettel damaged his Red Bull in a crash during a wet first session and missed the second, in which team-mate Mark Webber was fifth.
Nico Rosberg was second, 0.542secs and two places ahead of his Mercedes team-mate Michael Schumacher.
Ferrari's Fernando Alonso was hampered by a hydraulics problem and finished 1.613secs off the pace in 11th.
After seeing his winning streak broken at the last race in China by Hamilton, Vettel made an error on his return to competition in Istanbul.
The German, who leads the title chase by 21 points from Hamilton, lost control coming out of the high-speed Turn Eight, which stretches through four apexes, and crashed into the barriers.
"I hit the kerb," Vettel said. "There is nothing I could have done."
Red Bull were unable to repair Vettel's car in time for the afternoon session and the world champion will only have a final hour of practice on Saturday before qualifying begins at 1200 BST.
Team principal Christian Horner said: "It was one of those things. We were keen to look at the intermediate tyres but as he went out the rain increased.
"He was just unlucky and unfortunately it did quite a bit of damage. He managed to hit about every corner of the car. It just caught him out.
"The team have plenty to do this evening. Sebastian missed out on a lot of running time."
BBC Radio 5 live analyst Maurice Hamilton added: "Vettel and his engineers must now totally rely on Webber's input and he will give it to him no doubt.
"But Webber is getting a psychological advantage as he is having the car set up to his liking."
Webber, who took pole in Turkey last year and was leading when he was spectacularly taken out by his team-mate, set a best lap of one minute, 27.149secs.
After three long-haul races, Red Bull arrived for the European leg of the season as the team to beat and McLaren, Ferrari and Mercedes landed in Turkey with upgraded cars.
But the damp and chilly conditions, with track temperatures a meagre 11C at the start of the day, put paid to any meaningful running in first practice at Istanbul Park.
Hamilton and Button only emerged for installation laps before they hunkered down in the McLaren garage as the team chose to conserve their limited sets of wet and intermediate tyres.
A brighter afternoon, and a quickly drying track, saw both McLaren drivers do a full session's running.
When the team fitted the soft tyres inside the last half an hour, Button set his benchmark time of one minute 26.456 seconds.
"I'm relatively happy," Button said. "There are always things you want to improve (but) we've made some good progress.
"Trying to get the car to ride the bumps well into Turn 12 is a little bit difficult but that is something we're working on.
"We ran both tyres in the session. Turn Eight is very difficult for the cars.
"It's about getting the balance right and we've concentrated on that quite a bit - we're getting there but there's quite a bit to find.
"We haven't got everything we wanted put on the car here but we do have some updates so it's always nice to move forward.
"I had a quiet morning - lots of tea - but this afternoon we did high fuel and low fuel running but it's difficult to get a balance around here."
Hamilton added: "I initially struggled a little bit with set-up, which we can look at and fix overnight, but I was really pleased with my long-run pace - I think it was probably one of the best practice long-runs I've ever had."
Ferrari sit behind champions Red Bull and second-placed McLaren in the constructors' championships after struggling for pace in the opening three races.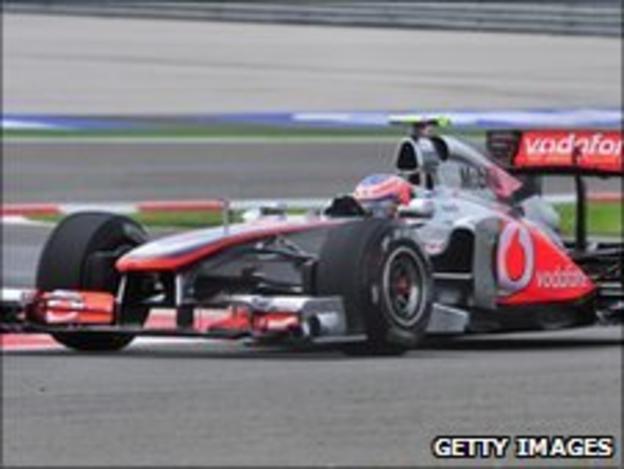 The Italian team are trying out a new front and rear wing this weekend and new brake ducts and Fernando Alonso was confident before practice that the car would be "a couple of tenths faster" than at the last race in China.
But it was a mixed day for the double world champion who set the pace on intermediate tyres in the morning before a more testing afternoon.
Alonso spun out of Turn Six and then came to a stop at the entrance to the pit lane because of a hydraulics problem.
The team, who had checked the Spaniard's car for potential hydraulics problems earlier in the session, wasted little time solving the problem and he returned for a spell on soft tyres.
Despite his problems, Alonso said he was encouraged by the Ferrari's performance.
"I think we have made progress," Alonso said, "but there are various teams that are quicker than us."
Mercedes were understood to be running with a new front wing in Turkey and the team will take a fillip from Rosberg and Schumacher's Friday performance.
Schumacher had an adventurous day. He aquaplaned off the track in the morning before he ploughed onto the grass during the second session as he reacquainted himself with Istanbul's unique challenges.
"Are we potential winners?" said Mercedes vice-president of motorsport Norbert Haug. "Not yet but we're working on it.
"There's big potential there. Hopefully we can stabilise from our level of performance in China and go forward from there. The direction is the right one I have to say."
Ferrari's Felipe Massa, a three-time winner in Istanbul, finished sixth just ahead of Vitaly Petrov's Renault.
Scottish rookie Paul di Resta, who experienced his first two runs around the circuit, was eighth for Force India and 1.269secs off the pace.
Sergio Perez's Sauber and Adrian Sutil's Force India rounded out the top 10.
Williams, who announced that technical director Sam Michael would stand down at the start of the season on Tuesday, abandoned their updates during the morning session.
And things hardly got better for the Oxfordshire-based team as Pastor Maldonado spun off twice before Rubens Barrichello's session ended early because of a water leak in his Kers power-boost system.
Hispania drivers Narain Karthikeyan and Tonio Liuzzi finished ahead of both Virgin cars, which had a new floor and other major changes in Turkey.
Team Lotus are planning their major changes - including a Red Bull style floor and rear package - in Barcelona but Heikki Kovalainen was just 0.402secs behind Kamui Kobayashi's Sauber in Friday's afternoon session.